Shanxi pushes ahead with green energy
Share - WeChat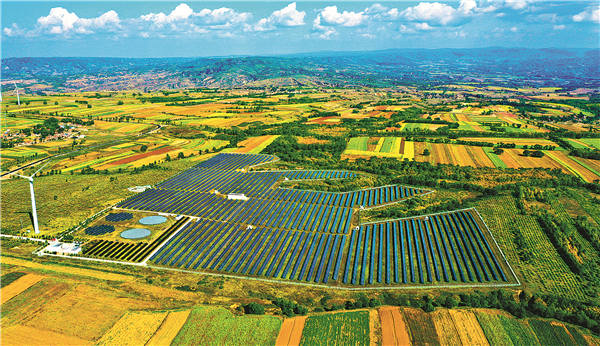 Province also looking into new technology to reduce emissions from coal
A 100,000-kilowatt wind power plant funded by a clean energy branch of Shanxi's power giant Jinneng Holding is under construction in the county of Wutai in the northeast of Shanxi province.
The project marks the latest move of Jinneng Holding's transformation from coal mining and coal-fired power generation to clean energy production, company executives said.
Upon completion, they said the project can generate 229.42 million kilowatt-hours a year, which is the same as burning 7.06 million metric tons of coal.
Executives said the company is implementing a new operational plan to raise its ratio of new energy in its power generation and upgrade its traditional energy production with high-efficiency and emission-reduction technologies, to meet the nation's strategy to reach carbon peak in 2030 and carbon neutrality in 2060.
Shanxi used to be a leading coal producer in China, with its coal output accounting for about half of the country's total during its peak.
However, local officials said, the heavy reliance on coal had hindered Shanxi's economic growth and posed a big challenge to Shanxi's environment and sustainable development.
To address the challenge, Shanxi has implemented an economic transformation plan over the past decade, aiming to reduce its reliance on coal and heavy industries and foster emerging, high-tech and environmentally friendly industries as new growth drivers.
Shanxi was approved by the State Council to become the first province to pilot a revolutionized energy industry transformation in May 2019.
According to Wang Maosheng, deputy chief of the Shanxi Energy Bureau, the province's energy revolution program includes initiatives to reduce the number of coal mines and increase clean energy resources in power generation.
By phasing out small and outdated capacity, the official said about 68 percent of Shanxi's coal mines are modernized facilities that are capable of producing coal in more efficient and cleaner manner.
"As the remaining coal-mining facilities, 890 in total, are larger in scale and more efficient, the total output of coal is expected to be stabilized at 1 billion metric tons this year," Wang said.
The efficient and clean production of Shanxi's modernized coal mines is made possible with the application of high-tech, digital and internet-connected technologies.
At the Tashan Mine of Jinneng Holding, for instance, a 5G-linked, smart operational center is used to control the whole process of production, including mining, coal conveying and safety monitoring.
As smart mining can lead to substantial improvements in efficiency and safety, Shanxi's officials said the province plans to develop 10 demonstration smart coal mines in the next three years and all the coal mines in the province are expected to become smart by 2030.
For coal mines, the efforts in emissions reduction are not limited to carbon dioxide, but other hazardous gases as well.
Mingshi Coalbed Gas, a subsidiary of Huaxin Natural Gas Group based in the city of Jincheng, is now focusing on the emissions reduction of coalbed gas.
"Coalbed gas, mainly methane, is the major emission in coal mining," said Shi Zhongqiang, chairman of Mingshi. "The toxic gas has a greenhouse effect 21 times higher than carbon dioxide."
The company has developed more than 170 technologies to turn coalbed gas into an environmentally friendly fuel in recent years.
Building power plants near coal mines also contributes to clean energy production in Shanxi.
Tashan Power Generation is another branch of Jinneng Holding. It uses coal from the nearby Tashan Mine to generate electricity.
"Building power plants near coal mines can help electricity companies save logistical costs and avoid pollution from coal transportation," said Yuan Guosheng, an executive of Tashan Power Generation.
However, there is still room to further improve by cutting emissions.
Statistics show that generating 1 kWh of electricity demands 315 grams of coal in Shanxi on average, compared with 270 g in developed countries.
To solve this problem, Jinneng Holding is developing new technologies to help to increase efficiency.
For instance, highly efficient ultrasupercritical turbo generators and direct air-cooling generators are currently used in a number of coal-fired power plants of Jinneng Holding. Such facilities can save 10 g in coal consumption for each kWh of electricity, according to Li Qinghua, an executive of Jinneng Holding.
In addition, the company is promoting the construction of smart power plants with such technologies as 5G, big data, cloud computing, the internet of things and artificial intelligence.
"Such technologies can lead to a further saving of 1.5 g of coal for every kWh of electricity according to our practice," Li said.
While coal-fired power plants are endeavoring to reduce emissions through technological upgrades, Shanxi's energy companies have stepped up their pace in developing power-generation facilities using clean energies.
Statistics show that Shanxi's wind power generation capacity grew 24.16 percent annually during the 13th Five-Year Plan (2016-20).
The solar power sector had an even better performance. Its power generation capacity increased 63.21 percent annually on average during the same period. Shanxi's total solar power generation capacity has reached 4 million kW, the largest among all provinces, autonomous regions and municipalities in China.
Guo Yanjie contributed to this story.