Transportation boost puts region on road to riches
Share - WeChat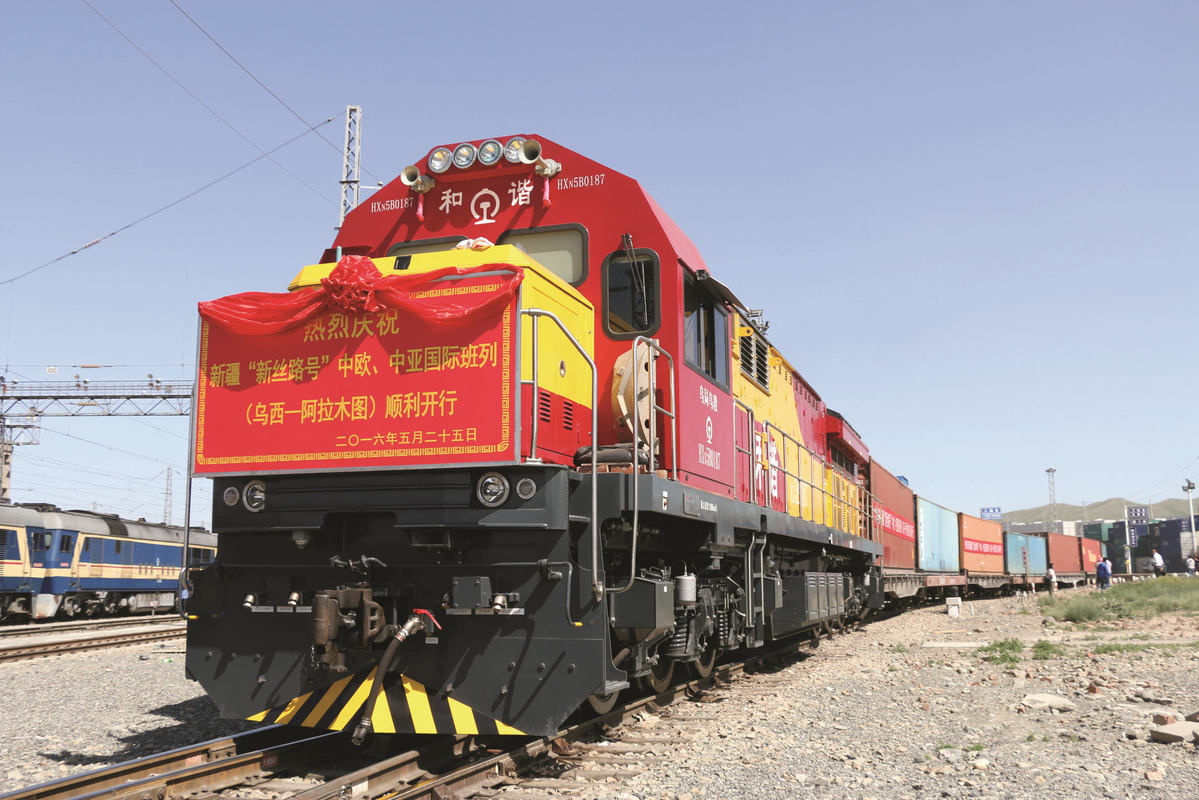 Government investment has provided Xinjiang's travel networks with better links to overseas markets and other parts of China
In 2013, train driver Xie Heng started working on the route of the China-Europe Railway Express, departing from the Xinjiang Uygur autonomous region.
In those days, the freight service, which aims to boost connectivity along the Silk Road Economic Belt via the Eurasian Land Bridge, could only take him to countries that border Xinjiang, such as Kazakhstan.
In 2013, the Belt and Road Initiative was proposed by President Xi Jinping as a way to boost global trade and connectivity. The BRI consists of the land-based Silk Road Economic Belt and the oceangoing 21st Century Maritime Silk Road.
Since then, the development of land ports and the transportation infrastructure in the vast region that covers one-sixth of China's territory has reached an unprecedented pace.
Xie believes that the changes he has witnessed in the China-Europe Railway Express services across the region perfectly demonstrate the effect of the BRI.
"I've driven trains carrying goods from China to Italy, Germany and Spain from Alataw Pass, which borders Kazakhstan. Nowhere tells the BRI's story better in practice than Xinjiang," he said.
Now, 22 routes of the China-Europe Railway Express pass through Alataw Pass in Xinjiang's Bortala Mongolian autonomous prefecture. The routes connect China with 13 countries.
Despite the ongoing COVID-19 outbreak, 2,446 China-Europe Railway Express trains traversed the pass in the first five months of the year, a rise of 44.7 percent from the same period last year.
Moreover, the average number of daily train services has reached 15 from just two in the route's initial stages, Wang Chuanjie, head of the Alataw Pass Customs, said.
He noted that China-Europe Railway Express services can cut freight journey times from Xinjiang to Europe by 80 percent compared with sea transportation and the service is extremely reliable.
The first China-Europe Railway Express train departed Alataw Pass on March 19, 2011. However, it took more than seven years for the number of services to and from China via the pass to reach 5,000, Wang said.
"But it only took 15 months for the number to reach 10,000 from 5,000. So, it's clear that the initiative has taken effect. Furthermore, the region has greatly benefited from it."
Xinjiang, an important trade hub on the ancient Silk Road, has been designated as a core area of the Silk Road Economic Belt under the 14th Five-Year Plan (2021-25) for National Economic and Social Development and the Long-Range Objectives Through the Year 2035.
Bordering eight countries, the region has geared up to leverage its geographical advantages and develop into a hub for greater trade openings.