Band brings hope in slums with music
Share - WeChat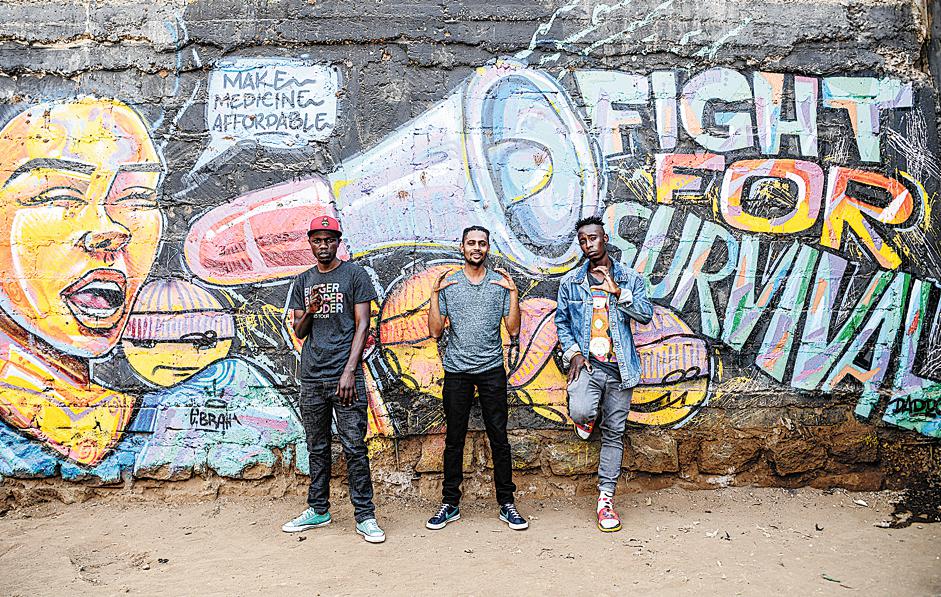 NAIROBI-When Moses Kimani and his two childhood acquaintances formed the band Cyplez in 2013, little did they imagine it would become a sensation in the Mathare slums, located on the eastern fringes of Kenya's capital, Nairobi.
"Hold on, don't give up. Keep your head up." The lyrics have always been a motto for dwellers of the area. Through music, the band is encouraging a growing number of young people to stay on their feet.
Music has become a source of solace for Kimani.
The 26-year-old vocalist was born and raised in the expansive slum at a time when the dreams of so many young people died prematurely amid harsh living conditions defined by poverty, crime and drug abuse.
Nevertheless, Kimani and his singing trio found inspiration in music.
When their paths crossed during adolescence, their bond with art grew even stronger, leading to the formation of a band that is causing waves in one of Nairobi's oldest informal settlements.
Seated at a makeshift bench on the banks of the Nairobi River that snakes through the Mathare slums, on a balmy afternoon, Kimani and his bandmates are in their element as they belt out a signature tune called Haly.
"Our music is unique since it seeks to unite, give hope and inspire people of all ages in the midst of difficult living conditions," Kimani says.
Adjacent to the Nairobi River that is choked with household and industrial waste is Sanaa Center, an open space where Kimani and his bandmates have been refining their vocal, dancing and songwriting skills.
He says crowds usually congregate at Sanaa Center whenever Cyplez stages a performance, adding that the graffiti on nearby stone walls has also inspired upcoming artists.
"When we put on a concert here, it floods with people," says Kimani, who earns a living through photography.
So far, Cyplez has released four visual and eight audio music works, but it is working on an EP that has seven songs and is slated to launch toward the end of 2021.
Mike Njoroge, the 30-year-old manager of the band, says the musical journey has been thrilling for the last eight years, despite occasional bumps linked to financial constraints and the COVID-19 pandemic.
However, inadequate capital has derailed plans by the band to record quality songs or stage mega concerts.
"Other challenges we are facing include connecting with established artists for collaboration that can raise our visibility. We are unable to stage live performances because of restrictions aimed at containing the pandemic," says Njoroge.
Regardless, the band is determined to produce quality songs that can resonate with international audiences.
According to Njoroge, Cyplez is yet to generate adequate revenue, so its members have to work regular jobs to make money.
As hope, inspiration and collective good remain Cyplez's founding creed, its youthful founders, like Zawadi Joshua, a 24-year-old singer who was also born and raised in Mathare, have retained a sunny optimism.
Joshua was instrumental in founding the band with the conviction that it would help him to realize his dream of becoming an accomplished vocalist and inspire Mathare youth to rise above their circumstances and prove their worth.
Despite its proximity to polluted water, the Sanaa Center, with its graffiti-covered iron sheet walls, provides an ideal background to shoot a music video and has been a prized destination for upcoming artists in Mathare.
It is in this makeshift arena that the likes of Moses Ambani, another member of Cyplez, have found solace in the quest to improve his capacity to belt out inspirational lyrics.
The 24-year-old says he started singing at a young age and the encouragement from his mother prompted him to pursue it as a vocation.
"We have been addressing issues pertinent to the Mathare slums like crime, pollution, unemployment and poverty through our songs," says Ambani.
"Our goal is to promote a positive narrative as we inspire the next generation to be agents of change in the area, despite the hardships they might be facing."
George Nakami, a 24-year-old construction management major who was born and raised in Mathare, confesses his love for the lyrics composed by Cyplez.
"Through the band's songs, I have come to look at life through a positive lens," says Nakami.
In the slums, music brings more than just notes and melodies. It is the moonlight in the gloomy night of life, he adds.
Kimani says: "There are so many children growing up and looking at us. When we give up, we kill their dreams. So we keep pushing."
Xinhua
Most Popular