Dawn of new era
Share - WeChat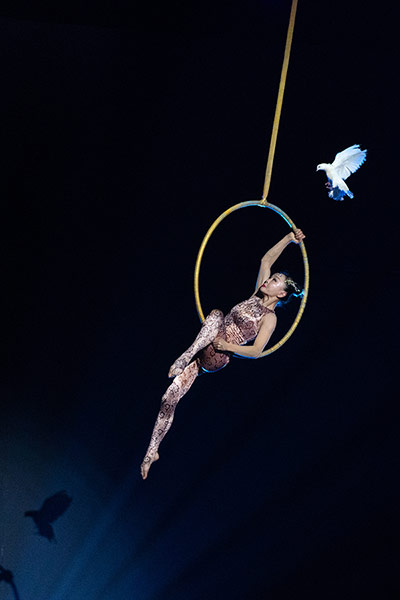 The new Era 2 acrobatic show that started at Shanghai Circus World on July 31 features a slew of upgrades, including new visual projections, costume designs and stunts.
Jointly produced by Shanghai Media Group, China Art and Entertainment Group and Shanghai Acrobatic Troupe, Era has been performed 5,354 times between September 2005 and January 2020 to an audience of 5.25 million. The total box-office taking during this period was more than 650 million yuan ($100.62 million).
The resident show has for years reflected the vibrancy of Shanghai culture, says Yu Yigang, director of Shanghai Acrobatic Troupe.
"It is time to polish this cultural brand of Shanghai and create a new acrobatic show for today's audiences from home and abroad," he says.
Era 2 features a story that revolves around a young man's encounter with a kind-hearted woman who lends him an umbrella on a rainy day. The show depicts his adventurous search for the mysterious young woman in Shanghai and culminates when the two young people are reunited for a romantic dance on a giant iron ring.
Alain M. Pacherie, founding director of the French Phoenix Circus, was invited to direct Era 2 in Shanghai.
He says in a video message:"Shanghai is an extraordinary city where the past, the present and the future converge and keep generating new experiences. It is also a marvelous source of inspiration: Its blocks, parks, plazas and streets have offered us on our every visit something to nourish our imagination. We wish to explore the kaleidoscopic colors of the city just like the spectacular reflection of the city on the street after the rain."