Dawn of new era
Share - WeChat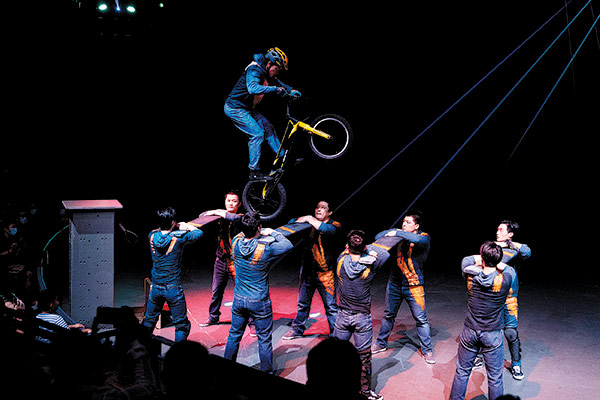 Era was first created in 2005 when SMG Live, CAEG and Shanghai Acrobatic Troupe came together to produce "an innovation initiative aimed at tapping the growing market for performing arts", Yu says.
A production that targeted international audiences, it featured the essence of Chinese acrobatics and combined it with arrangements, designs and music tailor-made for overseas viewers.
"It is a show in which you not only see breathtaking stunts, but also experience the unique culture of Shanghai and China," Yu says.
In the past 15 years, overseas tourists formed 70 percent of the Era audience and 30 percent included business visitors and tourists from other parts of China. The new edition, Era 2, Yu says, hopes to attract more Chinese viewers.
"It's not that domestic audiences do not like circus or acrobatics, we just have to create good shows to lure them in," he says.
The Shanghai Acrobatic Troupe is a State-owned outfit that was founded in 1951. Despite its name, the troupe also does magic, comedy and circus acts by animals. The troupe has won many accolades since its inception, including the first prize at Festival Mondial du Cirque de Demain, the Gold K Award at the Monte-Carlo International Circus Festival for Youth and the first prize in the International Magic Exchange Conference organized by the International Brotherhood of Magicians. Era also won an innovation award from China's Ministry of Culture in 2007. Highlight acts in the show were conferred the Golden Clown Award at the 36th and 42nd Monte-Carlo International Circus Festival.