Henan flooding impacts 13.66 million
Share - WeChat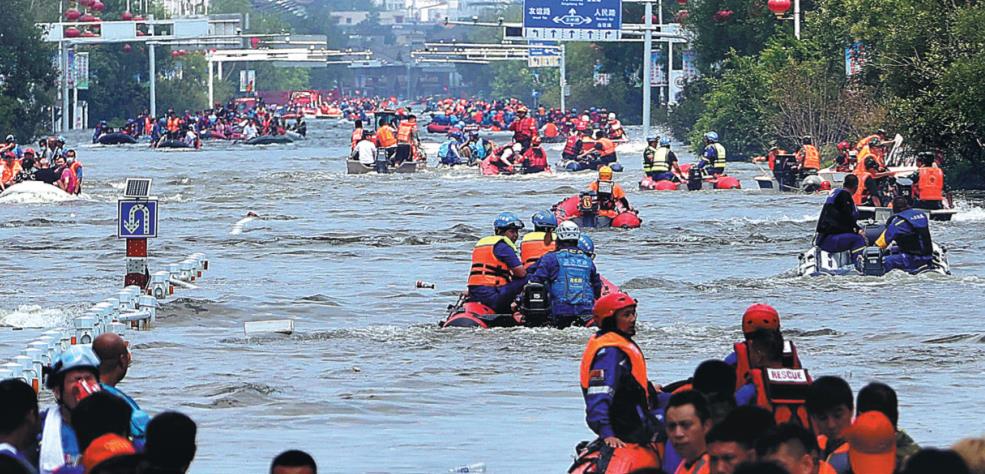 At least 73 people have been killed due to the heavy downpours and flood disaster in Central China's Henan province as of noon on Wednesday, according to the latest figures released by the provincial government.
More than 13.66 million people from 1,602 local towns have been affected by the rainstorm that started on July 16, and a total of 1.47 million people have been relocated, it said.
The disaster also affected over 1.02 million hectares of crops, with nearly 180,000 hectares wiped out. Over 17,000 houses collapsed and another 41,327 were severely damaged.
The rain and floods caused direct economic losses reaching over 88.5 billion yuan ($13.6 billion) and the further disaster situation is still under verification, it said.
Wu Shengjun, vice-mayor of Xinxiang city, said from July 17 to 22, the city experienced the heaviest rainstorm ever recorded, with an average rainfall of 830 millimeters and a maximum rainfall of 965.5 millimeters.
The heavy rainfall and flood have affected 2.3 million people in the city's 147 towns, causing direct economic losses of 9.78 billion yuan, he said.
Weihui, a county-level city under the administration of Xinxiang, was heavily affected. The water in Weihui city peaked at 20 million cubic meters, with 16 million cubic meters still standing. By noon on Wednesday, nearly 300,000 people in Weihui were affected, and the authorities have relocated 204,000 people, Wu said.
In response to the waterlogging problem in Weihui, the authorities excavated a drainage ditch, built water barriers, increased pumping equipment, and opened 10 drainage sluices to drain the water.
"We will try our best to solve the waterlogging problem in Weihui in three days," Wu added.