Medics work to fully contain virus in Jiangsu
Share - WeChat Vaccinated individuals were found with milder symptoms in the outbreak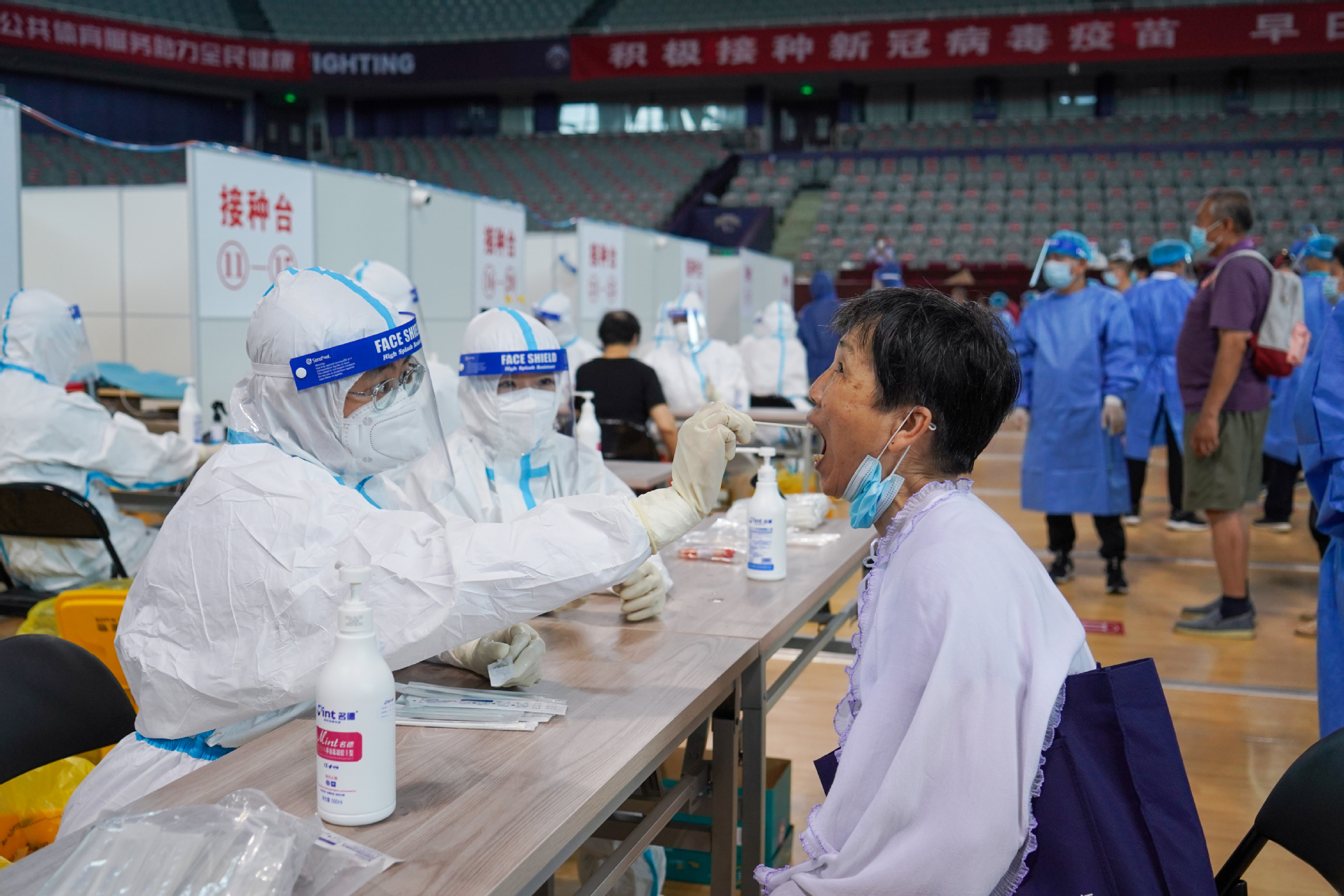 Nanjing, Jiangsu province, had almost finished testing its 9.3 million residents as of Friday when the city reported a total of 23 locally transmitted COVID-19 cases and 14 asymptomatic carriers that were recorded since Tuesday.
Yang Dasuo, deputy director of Nanjing Health Commission, said that the city's Lishui district reported two cases – one confirmed and one asymptomatic – while Jiangning district reported 35 cases.
"Of the 35 cases in Jiangning, 29 are airport cleaning workers, three are ground service workers and two are delivery staff," Yang said. "The other three are among their contacts."
Fu Jinjin, deputy head of Jiangning, said that the district's Lukou sub-district has launched its second round of nucleic acid testing.
"Free food, including rice, milk and eggs, have been provided to local residents living in the 29 quarantined communities and villages. Psychologists have also been arranged for them." Fu said.
Feng Jun, Party secretary and chairman of the board of Eastern Airports, a State-owned company that oversees seven airports in Jiangsu, was suspended from his duties on Friday.
To contain COVID-19, more than 50,000 volunteers, 14,000 social workers and thousands of healthcare workers from 12 nearby cities have also been participating in the provincial capital's citywide nucleic acid testing campaign since Wednesday.
They work in 1,452 sample collection centers and 76 sample analyzing institutions, which can analyze 3.5 million samples a day across the city.
The Joint Prevention and Control Mechanism of the State Council also sent a work team to Nanjing to help contain COVID-19, conducting medical treatment, epidemiological investigation and contact tracing, the National
Health Commission said on Friday. While millions of people lined up for tests over the past two days, on Friday few people could be seen at sample collection centers as the first round of testing wrapped up.
As of Friday morning, 23 patients with locally transmitted cases and 10 imported ones were receiving treatment at the city's designated hospital for the coronavirus, according to the provincial health commission.
Yang Yi, director of Zhongda Hospital's intensive care department, said that none of the confirmed patients were severe cases. "Specific treatment plans have been made for each patient."
She said that except for one teenager, all confirmed cases had received COVID-19 vaccinations.
"Vaccination does work to lessen the symptoms and shorten treatment regimens," Yang said, adding that locals should avoid public places, wear masks and practice social distancing.
Li Pei, who operates a hotel in Jiangning where the airport is located, said he has confidence that the city will win the battle against the virus. "Though it affects our lives enormously, I believe it will finally return to normal, like the way we overcame the contagion in 2020."
Apart from Nanjing, Zhongshan in Guangdong province, Shenyang in Liaoning province, Ma'anshan in Anhui province, and Liyang and Suqian in Jiangsu province all reported locally transmitted cases involving people who had been to Nanjing as of Friday. All have further strengthened contagion responses.
In Zhongshan, a mass nucleic acid testing campaign began after it was reported that a local COVID-19 asymptomatic carrier was discovered on late Thursday. A total of 435 close contacts have been put under medical observation.
In Anhui, the infected person, who lives in Jiangning, is the husband of a confirmed COVID-19 patient, a cleaner at the airport.