Xi's speech at APEC meeting hailed globally
By PRIME SARMIENTO in Hong Kong, WANG XU in Tokyo and CUI CHAOQUN in London | China Daily | Updated: 2021-07-19 07:02




Share - WeChat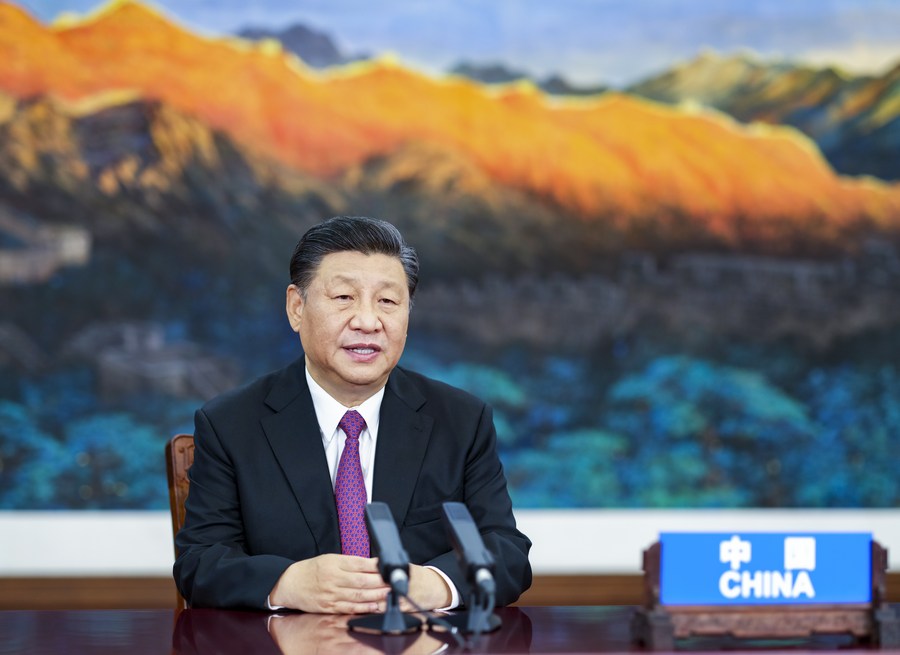 China to provide more support centering on economic recovery in developing countries
President Xi Jinping's speech at an informal Asia-Pacific Economic Cooperation meeting on Friday has bolstered confidence in the global fight against the COVID-19 pandemic and economic recovery via China's substantial efforts to fight the pandemic as well as its determination to promote multilateralism, global experts said.
Addressing APEC's Informal Economic Leaders' Retreat via video link, Xi called on APEC economies to strengthen solidarity and cooperation to overcome the impact of the COVID-19 pandemic and boost global economic recovery.
Xi made a four-pronged proposal for Asia-Pacific cooperation: strengthen international cooperation on the COVID-19 response; deepen regional economic integration; pursue inclusive and sustainable development; and seize opportunities for scientific and technological innovation.
In his speech, Xi said China has so far provided more than 500 million doses of vaccine to other developing countries and "will provide another $3 billion in international aid over the next three years to support the COVID-19 response and economic and social recovery in other developing countries".
Dicky Budiman, an epidemiologist at Griffith University in Australia, said Xi's speech demonstrated China's commitment to "supporting global vaccine cooperation and in waiving the intellectual property rights on COVID-19 vaccine".
Budiman said this is "very important" for lower- and middle-income countries, many of them in Asia and in Africa, as it will "give (their population) protection from the virus".
"Xi also called for global cooperation to end the pandemic. It's time for all countries to have strong collaboration, because we can't let other countries be left behind," Budiman said.
Andy Brooks, general secretary of the New Communist Party of Britain, hailed China's leading role in tackling the pandemic and providing immense assistance to other countries in the battle against the virus.
"We are indeed a 'global village', and, if we stand together, we can overcome the COVID-19 plague. Hopefully, the countries of the industrialized West will now support the Chinese proposal to waive intellectual property rights on COVID-19 vaccines to speed the global recovery," Brooks said.
Dennis Munene, executive director of the China-Africa Center at the Africa Policy Institute, said Xi's remarks sent a message against the "incoming order of vaccine imperialism", advocating for "peaceful cooperation among civilizations in a time of adversity".
To defeat the coronavirus and boost vaccination worldwide, Munene said, China has pledged to work with other parties and "take an active part in cooperation initiatives to keep vaccine supply chains stable and safe and support the movement of essential goods… through adhering to the principles of multilateralism".
Yuzo Tanaka, a professor of economics at Ryukoku University in Kyoto, said China's pledge to set up an APEC fund for pandemic response "will facilitate a speedy and balanced recovery between haves and have-nots".
He added that the move is "in the common interests and moral duty of all APEC members".
Ronnie Lins, director of the China-Brazil Center for Research and Business, said Xi's speech is of great significance as it provides a feasible plan for the international community to cooperate in fighting the COVID-19 pandemic and promoting economic recovery.
As to the negative impact of COVID-19 on the world economy, Lins said that only by promoting multilateralism can the global economy recover sooner, adding that the China-proposed Belt and Road Initiative will help enhance cooperation among countries along the routes.
Joe Thomas Karackattu, associate professor at the Department of Humanities and Social Sciences and faculty in-charge of the China Studies Center at the Indian Institute of Technology Madras, said Xi's focus on the revival of economic growth under the current circumstances was encouraging.
"This is encouraging as he focused on many opportunities (that are present even in the middle of the pandemic). (The opportunities include) the rise of digital economies, more vaccine outreach, and other tourism opportunities," Karackattu said.
Wayne Huang, principal of the Institute of Commercial Education New Zealand, expressed his belief that China will play an important role in promoting an inclusive, sustainable and resilient recovery in the Asia-Pacific region and the rest of the world.
"China's rapidly developing economy and its large consumer base provide a huge market for the Asia-Pacific region and the rest of the world," he said.
Zhao Ruinan in Beijing and Xinhua contributed to this story.