Exercise bike in space helps keep crew fit
Share - WeChat During a recent video sent from the core module of China's space station Tianhe (Harmony of Heavens), an exercise bike attracted lots of attention from viewers.
China launched its seventh manned spaceflight Shenzhou XII, on June 17, with three astronauts aboard for a three-month mission, during which they require regular exercise.
On June 23, astronaut Nie Haisheng opened a package containing an exercise bike and assembled it in five minutes according to the instructions.
"During an extended period in the space station, astronauts undergo a series of adaptive changes, such as changes in the cardiovascular system, muscle atrophy and bone loss," said Qin Younian, head of the space program for Shanxi Orient Fitness and Health Industrial Co, which developed the bike.
"They need daily exercise time and intensity, and exercise equipment helps them maintain strong bodies and prevent cardiovascular dysfunction, bone calcium loss and bone and muscle atrophy."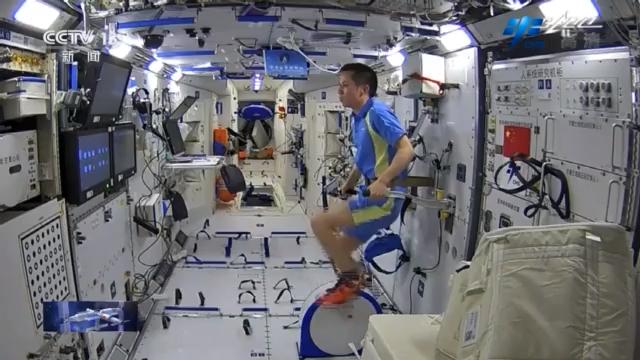 The company started researching space fitness equipment in 2006, applying its technical and scientific research know-how, and in 2012 Liu Yang, China's first female astronaut, became the first user of its bicycle ergometer in the Tiangong I space lab.
In subsequent years, the company developed other space fitness equipment, including a treadmill for daily exercise.
In 2017, the company invited Liu Wang and Zhang Xiaoguang, two astronauts who had joined space missions, and experts in fitness and aerospace issues to promote the development of space fitness equipment.
Based on their experience and professional perspectives, they advised on the appearance, materials and functions such equipment should have. The Shanxi Orient Fitness team then spent more than 500 days developing the exercise bike.
"As the only enterprise developing and producing aerospace fitness equipment in China, we are deeply aware of the heavy responsibility," said Hao Hushan, general manager of the company. "We will stick to the spirit of innovation, elaboration and persistence."