Development district sees strong progress in construction, investment
Share - WeChat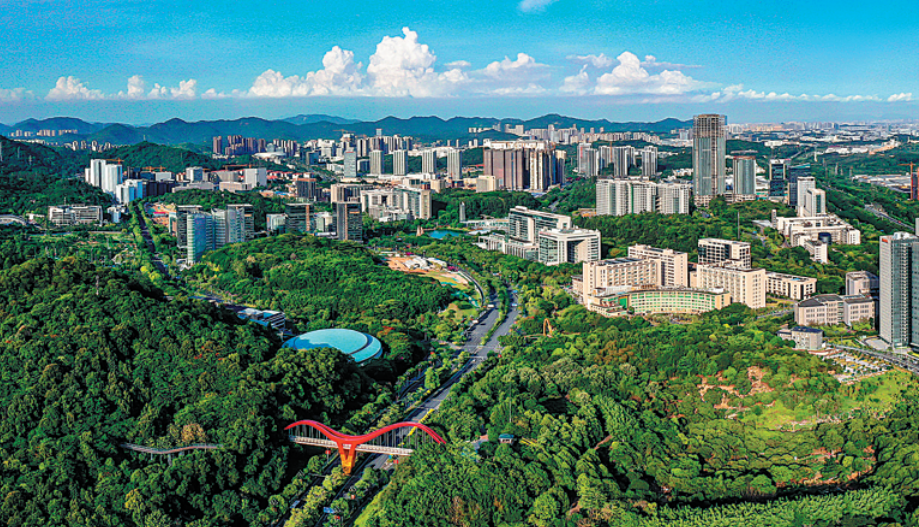 Guangzhou Development District has made strong progress in constructing 500 megaprojects in 10 major industries this year, despite the lingering slowdowns from the COVID-19 pandemic.
Gu Xiaobin, chief economist of GDD, said the district will complete investment valued at 129.1 billion yuan ($19.97 billion) for the projects this year.
"Construction of the 500 megaprojects that cost more than 1.23 trillion yuan was aimed at building GDD into a major production base of innovation as well as new and high-tech industries in the Guangdong-Hong Kong-Macao Greater Bay Area in the years to come," Gu said at a news conference on Friday.
To promote and speed up construction of the megaprojects, GDD has organized nine rounds of group contract signing and construction commencement ceremonies for the megaprojects since late 2019.
The megaprojects are expected to play a big part in accelerating economic growth in GDD and the entire city in the following years, Gu said.
GDD deems the megaprojects a present for celebrating the 100th birthday of the Communist Party of China on July 1, he said.
Of the projects, 29 reach an investment scale of more than 10 billion yuan each and 166 have an investment scale of more than 1 billion yuan each, Gu said.
Located in the eastern part of Guangzhou, capital of Guangdong province, GDD in the prosperous Pearl River Delta is now home to a myriad of well-known foreign and domestic companies involved in the industries, which include artificial intelligence, biomedicine, chips, information, 5G, smart manufacturing, big data, new energy, new materials, culture, education, tourism and related cutting-edge technologies.
With more than 3,000 biomedicine companies, GDD has become a new innovation and production base of Guangdong province's biomedicine industry. The district's industrial production scale in the biomedicine industry is expected to reach more than 100 billion yuan in the coming years.
Earlier this year, biotech company BeiGene kicked off construction on its fourth plant in GDD, playing a role in helping build the district into one of the largest production bases for anti-cancer drugs in Asia.
With the completion of its fourth plant, BeiGene's anti-cancer production capacity will come to more than 120,000 liters, with its maximum capacity reaching 200,000 liters.
That expanded capacity will make it one of the largest anti-cancer drug production bases in Asia.
Construction of the megaprojects have further spurred the industrial development of GDD in the previous years.
According to Gu, those manufacturing enterprises each with annual business revenue surpassing 20 million yuan in the district realized total industrial output of more than 800 billion yuan and GDD posted a commodity sales volume of more than 970 billion yuan last year.
Yang Yuanshi, director of the district's reform and development bureau, said the GDD's GDP grew 20.6 percent year-on-year in the first quarter of 2021, which is faster than the average growth of the country, Guangdong province and Guangzhou city.
GDD's total finance and taxation revenue increased by 31 percent year-on-year and the profit of enterprises grew by 88.7 percent year-on-year in the first five months of 2021.
And it is expected to keep its strong momentum in the following months, he said.