Local practices of China's water governance innovation shared
Share - WeChat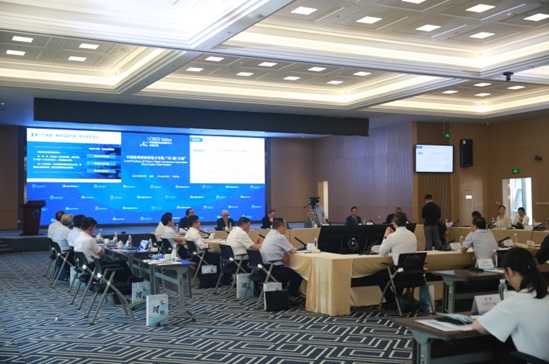 "60.3 kilometers of shoreline have been cleared, and 12.13 million square meters of beaches were re-greened, cleaned up and reshaped in East China's Jiangsu province", said Liu Liuyan, deputy director-general of the Department of River and Lake Management, under the Ministry of Water Resources, at a salon organized by the Center for International Knowledge on Development (CIKD), in Beijing, on June 15.
This discussion, themed "Local Practice of China's Governance Innovation: River (Lake) Chief System," aims to share China's practice on water resource management, based on the country's river and lake protection achievements, especially one of the management approaches called "river (lake) chief system".
China has established provincial, municipal, and county-and township-level river chief systems, and appointed around 1.2 million head river chiefs, Liu said.
"The water quality in China has significantly improved. The proportion of surface water with fairly good quality has reached 83.4 percent," said Yu Bin, member of the Leading Party Members' Group of the Development Research Center of the State Council.
"The system of river chief will have a good impact on the environment. It is very active. It is a system where you engage people who are concerned about their own environments," said Marie Louise Flach de Neergaard, the Minister Counsellor of the Embassy of Denmark in China.
Egyptian ambassador to China, Mohamed Abd El-Sattar Elbadri considered the river chief system as a brilliant idea, saying "there is a lot to be learned from it."
José Luis Bernal, Mexican ambassador to China, said, "We learn about this experience in China of not only preserving but also developing new ways of contributing to what we call water governance."
Chen Jie, director of Jiangsu Water Authority, shared the process of setting up the river chief system in the province.
Renaud, a French volunteer serving as a foreign river chief in Jiangsu, said on environmental issues, "only global efforts can lead to success."
This is the first discussion within the theme of China's Governance Innovation in the new era. 23 embassy representatives, 13 heads of international organizations, and about 100 representatives from the Ministry of Water Resources, Jiangsu, Zhejiang, Shanghai and other cities, participated in the meeting.
CIKD will host a series of such salons focusing on international hot issues, inviting practitioners, experts and international organization representatives to share thoughts and experiences, aiming at improving communication and understanding in certain areas between China and other countries.
Chang Wanyi contributed to the story.