In harmony with nature
Share - WeChat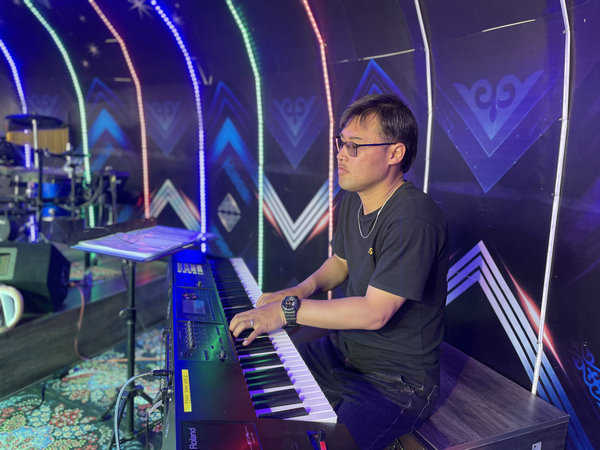 Ulan Haltay, 29, is a vocalist and dombra player in the band. He graduated from the music school at Xinjiang Normal University and hopes that he can combine the traditional music of the Kazak people with the various popular genres of music.
"Our style is a bit more rock 'n' roll. In this way, maybe we can attract a more contemporary fan base to our songs," he says.
As a Kazak, he grew up on the sweeping pastures and is obsessed with the tranquility of the environment.
"Now I get to perform on the grassland every day. This is definitely what I want," he says.
The band members have collaborated on nearly 20 original songs which mainly portray the beautiful scenery of the meadowlands and the unique lifestyles of the nomads who inhabit them. They plan to produce their first album this year.
"If we are well-prepared, we will also compete in some hit talent shows to further spread traditional Kazak music among people from outside Xinjiang," Ulan adds.
Last year, the Nalati grassland scenic spot received nearly 1.85 million tourists with related income reaching 109 million yuan. This year, as of the end of May, about 96,500 tourists had visited, according to the local publicity department.