Classical music extravaganza to return in July
Share - WeChat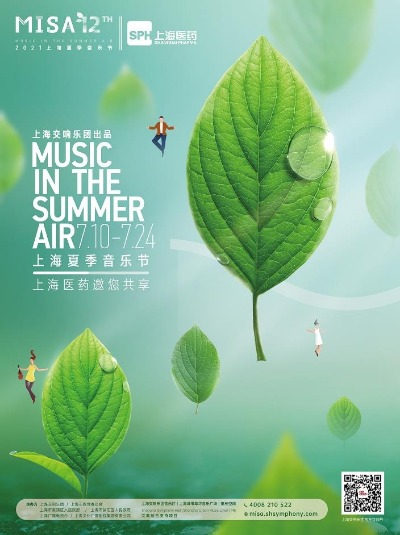 Music in the Summer Air (MISA), an annual music festival, will take place in Shanghai from July 10 to 24.
Twenty-three concerts and other performances will be staged during the festival period.
This is the 12th installment of the festival by the Shanghai Symphony Orchestra (SSO).
According to Yu Long, artistic director of SSO and co-director of MISA, the festival has been a more open, avant-garde and multi-dimensional platform compared with the usual classical music events and has consistently been a stage where many new cutting-edge artworks make their debuts.
This year, Song of Nature, a theater project by Chinese director Zou Shuang and Australian visual artist Dan Potra, will premiere at the festival. The six-piece music group Shanghai Camerata and soprano Li Jingjing will present series of new compositions by Wim Henderickx alongside Handel's Nine German Arias.
The festival will also feature new projects resulting from collaborations between artist groups such as J-Fever and the SSO Strings, singer and songwriter Xiao He and Tao Dance Theater, as well as percussionist Fu Yifei, conductor-turned pianist Zhang Lu and clarinet player Li Cong, who will play new adaptations of works by Debussy, Stravinsky and Satie.
Yu will conduct the opening concert on July 10 at the Shanghai Symphony Hall. On this day, musicians such as pianist Luo Wei and Wang Yalun, and the women's chamber group Magnolia Quartet will play A Midsummer Night's Dream Overture by Mendelssohn as well as works by Mozart, Elgar and Respighi.
This year, MISA will launch a new program called Future Stars Show. The festival has since June 1 been recruiting emerging musicians from all backgrounds for this program.
According to the festival organizers, more than 50 projects have been listed, including a new jazz adaptation of Beethoven's Piano Sonata No.8 "Pathetique", and cross-over creations featuring video, dance and calligraphy.
Most Popular