Zespri tastes sweet success as kiwi sales blossom
Share - WeChat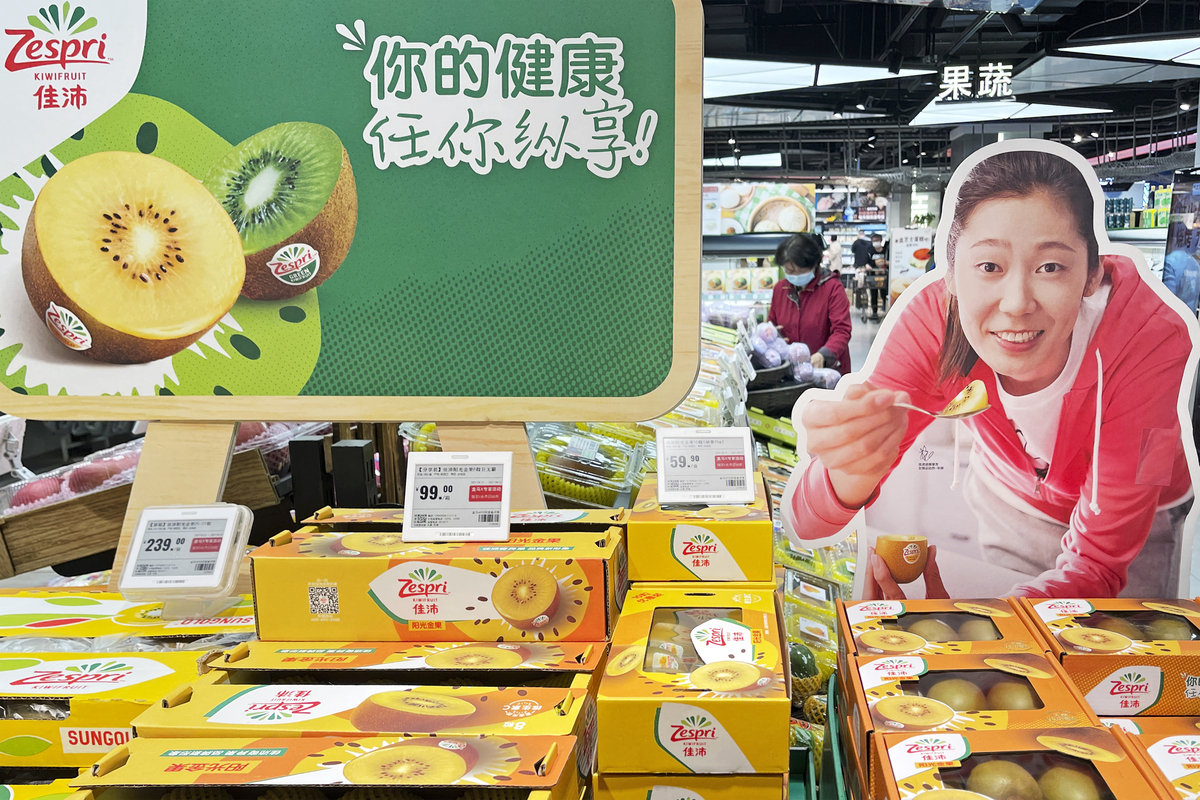 Global kiwifruit giant Zespri is looking to scale up its presence to 100 cities in China from the current 50 and bring onboard more partners in the next five years as it looks to tap into rising market opportunities.
"The China market is undoubtedly one of the most important markets for Zespri," said Michael Jiang, general manager of Zespri Greater China. "Starting from 2019, China has become Zespri's number one market worldwide. While local sales only accounted for 5 percent of Zespri's global sales 10 years ago, that figure rose to nearly 20 percent last year."
"Over the past 10 years we have grown rapidly in the China market, fueled by rising urbanization, a growing middle class and consumers' increasing demand for healthy, nutritious foods," Jiang said.
The New Zealand-based company has launched its new China strategy to support business expansion in China, including enhancing brand awareness, expanding its footprint and continuously introducing new products such as a new breed of red kiwifruit in the local market.
Looking ahead to the next five years, Jiang sees huge growth potential in the China market. "While we've seen rapid development in China, the household penetration rate of Zespri kiwifruits in the country is only 20 percent. We aim to further boost the figure in the next five years."
Zespri's goal is to double sales in China in the next five years with a 15 percent annual compound growth rate.
Currently, its China business mainly covers economically developed coastal regions in the east, such as the Pearl River Delta region, and its next phase expansion will focus on more inland cities in provinces such as Henan, Hubei, Sichuan, Hunan and Anhui.
"We are very optimistic about the Chinese market," Jiang said. "Because of the pandemic consumers have started to attach great importance to health. We are looking forward to seeing huge growth opportunities in China with people's increasing demand for high-quality healthy fruits and rising consumption upgrade trends."
He said strong sales of Zespri products on e-commerce platforms such as JD and Tmall have significantly boosted the company's growth in China. Nearly 25 percent of Zespri's fruits were sold online in China last year, and the company forecasts that the figure will rise to nearly 50 percent in the coming three years.
"It is a key strategy for us to actively promote online business development, as consumers are now accustomed to browsing, socializing and shopping online," Jiang said.
Jiang said Zespri will not only continue to enhance cooperation with major e-commerce platforms, but also keep an eye on emerging e-commerce trends such as social e-commerce and community group buying.
Currently Zespri kiwifruits are shipped out of its production bases and sold in China for around 10 months of the year, and the company is looking for an opportunity to establish a production base in China to source kiwifruit year-round.
According to a recent report released by Beijing Puhua Policy Information Consulting Co Ltd, China's per capita fruit consumption has huge growth potential, as the current per capita fruit consumption per person is less than half of the 105 kilograms per capita annual fruit consumption in developed countries.
Another report from the China Chamber of Commerce of Import and Export of Foodstuffs, Native Produce& Animal By-products said that in the first half of 2020, China imported 3.64 million tons of fruit for a total value of $6.33 billion, reflecting an 8 percent year-on-year drop in volume and a 14 percent increase in value.
Ivan Kinsella, chairman of the New Zealand Business Roundtable in China, said China's continual upgrading of consumer demand, increasing urbanization of its population and massive market scale remain appealing to New Zealand, and the complementarity between the two countries is excellent in terms of bilateral trade.
"Both China and New Zealand are in a very good position to have basically brought the pandemic under control. So, there's basically no community transmission at this time for both countries. That creates a very positive environment to not only recover from the downturn during the worst time of the pandemic, but also as a springboard for future growth."
Kinsella said that even during the pandemic, many New Zealand companies were actually not very much impacted by the COVID-19 outbreak. "In fact some sectors such as kiwifruit (even) had positive growth because of its very healthy nature as well as the supply chains that we have in place to be able to provide reliability for customers around the world," he said.
"The main advantage for New Zealand relates to healthy and sustainable food products. As people become more interested in looking at improving diets, we'll see more growth opportunities in providing healthy foods such as kiwifruits to China," he added.