Festival celebrates Sino-French cultural exchange
Share - WeChat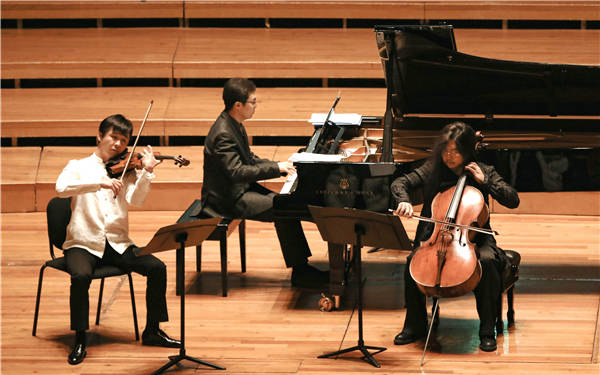 Soprano Zhang Liping, harpist Sun Shimeng and pianist Zhang Jialin performed together in a concert to celebrate French composers.
As part of the ongoing Croisements Festival, an annual Sino-French cultural exchange event, the concert was held at the Forbidden City Concert Hall on Wednesday. It featured French songs including Charles Gounod's Serenade, Reynaldo Hahn's A Chloris, and Gabriel Faure's Clair de Lune.
The concert also saw the artists performing arias from classic French operas such as L'air des bijoux (The Jewel Song) from the opera Faust by Charles Gounod, Depuis le Jour (Ever Since the Day) from the opera Louise by Gustave Charpentier, and Je Vets Vivre Dans Ce Reve (I Want to Live in the Dream) from the opera Romeo and Juliet by Gounod.
Pianist Zhang Jialin recalled performing with soprano Zhang Li--ping and harpist Sun in 2017 at the same venue featuring programs of French pieces, which received great response from the audience. With the upcoming concert, he selected repertories which are well known among Chinese audiences.
"For those who may not be familiar with French art songs and French operas, these music pieces are beautifully written and will be a great start for the audience to enjoy French music," says Zhang Jialin.
Most Popular