Composing success
Share - WeChat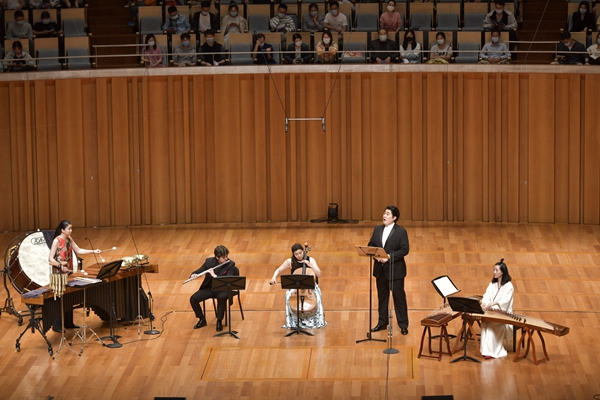 Tianjin Juilliard School brings artists together to allow their music and creativity to flourish and build bridges of understanding, Chen Nan reports.
In 1993, Alexander Brose, a 16-year-old vocalist, got an opportunity to do a summer internship in a music institute in Connecticut, the United States. Because Brose, who was born in New Jersey and grew up in Seoul and Hong Kong, could speak a little Chinese, he was assigned to work with a group of US singers who would sing Chinese songs, helping them with their Chinese pronunciation.
It was a two-week program and for Brose, it was a fun task.
The first music piece he worked on was Marco Polo, an opera about the 13th-century Italian explorer composed by Tan Dun. It was the first time that Brose met Tan.
About two decades later, Brose moved to Tianjin, working as the executive director and CEO of the Tianjin Juilliard School, the first overseas campus in China of the New York-based performing arts conservatory.
In 2018, he met Tan again at a party after a concert in Beijing, featuring music by a group of Chinese composers, including Tan, Chen Qigang, Zhou Long, Chen Yi and Qu Xiaosong, who were admitted to the composition department of the Beijing-based Central Conservatory of Music in 1978-the first year when students could enroll after the "cultural revolution" (1966-76). They became the first generation of Chinese composers to be recognized by Western audiences.
"Do you remember me?" Brose asked Tan. Looking confused, Tan didn't recognize the man standing in front of him. After Brose introduced himself again with his Chinese name, Bu Yiming, and as the executive director and CEO of the Tianjin Juilliard School, Tan still did not recognize him.
"We worked together in 1993!" Brose said. "Alex?" Tan called Brose's name at once.
Now, Brose can still vividly recall the moment of reconnecting with Tan.
East meets West
On May 11, Brose was in Beijing to announce a series of four concerts by the Tianjin Juilliard Ensemble and the China NCPA Orchestra at both Tianjin Juilliard Concert Hall and the National Center for the Performing Arts in Beijing from May 12 to 16.
The concert on May 16 featured String Quartet and Pipa by Tan, Poeme Lyrique II, 1990 by Chen Qigang, Recitativo Gong by Guo Wenjing, Drink One More Glass of Wine by Yao Chen, as well as a world premiere of US composer Niccolo Athens' Three Settings From the Book of Odes.
"This concert has different meanings for me since my roots here in China are from so long ago," says Brose, adding that the concert also marks the beginning of the collaboration of the Tianjin Juilliard School and the NCPA.
Chinese cultural elements, such as traditional poems and musical instruments, inspired the creative processes of contemporary composers. For example, Yao's One More Glass of Wine was inspired by the poetry of Wang Wei, a renowned poet from the Tang Dynasty (618-907). Guqin (Chinese zither) player Chen Leiji performed with musicians of Western string instruments in this piece.
Three Settings From the Book of Odes, composed by Athens, was inspired by Shijing (The Book of Odes), the earliest poetry collection of China. Bass-baritone Shen Yang and guzheng (Chinese plucked zither) player Chang Jing were featured in the piece.
"I've composed about four or five music pieces combining Western and Chinese musical instruments. It's a process of finding a perfect sound for both sides," says Athens, a teacher of the Tianjin Juilliard School.
Born and raised in San Antonio, Texas, Athens started studying the viola in elementary school when he was 8. He first visited China during the summer of 2010, traveling to many places, including Shanghai, and Zhejiang and Yunnan provinces. That year, he received his bachelor of music in composition from the Juilliard School in New York.
He Wei, artistic director and dean of the Tianjin Juilliard School, says: "We call this concert 'East Meets West', which is rich and innovative in its content through cultural understanding, musical creativity and performance collaboration.
"Works from the five composers bring together elements from diverse cultures. From the seamless merging of string quartet and pipa (a four-stringed Chinese lute) to Chinese vocal traditions, such as Peking Opera, combined with Western opera and modern techniques, audiences have an extraordinary experience. It is our hope to bridge different cultures through the art of music."
Born in Chengdu, Sichuan province, He was trained at the Sichuan Music Conservatory before going to the San Francisco Conservatory of Music. He has been teaching at the US school for about 20 years.
"The uniqueness of music as an art form not only allows all symbols and elements of various cultures to coexist, but to thrive for perfection through all the differences," He says.
These four concerts are part of the NCPA's ongoing May Festival, an annual event to promote chamber music in China.
Earlier last year, the Juilliard School in New York, the Tianjin Juilliard School and the NCPA signed a memorandum of understanding for a strategic partnership to explore collaborative opportunities in performance, education, artist training and more. Though plans were postponed due to the coronavirus pandemic, the series of performances in May was the first initiative produced as a result of this partnership.
In addition, Chinese American violinist Weigang Li and French horn player Han Xiaoguang have been appointed as artistic consultants and honorary section principals of the NCPA Orchestra for the next two years.
Most Popular