Opera strikes chord for Red Tourism
Share - WeChat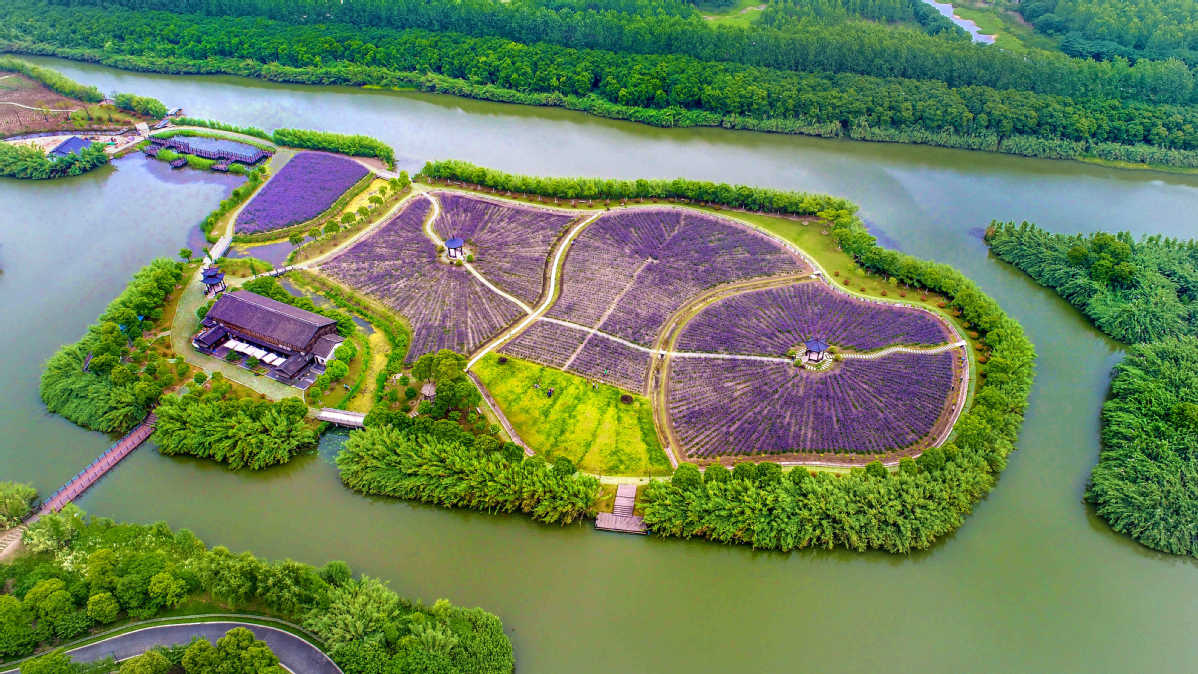 Shajiabang, located south of Changshu city in Jiangsu province, is a scenic spot renowned for its ancient water town and "red tourism".
The township, covering 70 square kilometers, has seemingly endless reed beds scattered throughout its rivers, and visitors enjoy taking boat trips through the reeds as fresh breezes blow across the water.
The settlement is also known to almost all Chinese people, but especially seniors, thanks to a popular Peking Opera of the same name, which tells the story of A Qing, an underground communist who owns a tea house.
She saves a group of wounded soldiers from the New Fourth Army, one of two main fighting forces operated by the Communist Party of China, in the reed marshes and hides them from the invading Japanese forces until they can return to their units.
In 1968, the opera was broadcast on radio and became a well-known tale across the country.
The town can trace its history back to the Sui Dynasty (581-618), when the original inhabitants began dwelling in the area, building houses and other facilities.
Shajiabang also has a deep "red culture" heritage. In March 1927, a young man named Shi Chucai organized a land revolution movement, which proposed overthrowing local landlords, and eventually sacrificed his life for the revolution in 1929.
In 1939, under the leadership of Ye Fei, a senior New Fourth Army commander, a resistance force, known as the Jiangnan Anti-Japanese Volunteer Army, moved east to join local forces.
They then founded a guerrilla base and used their detailed knowledge of local waterways to harass the invaders.
Later, more than 30 wounded and sick soldiers were unable to catch up with their units, so they had to stay in Shajiabang, where they were cared for by local residents and organized more resistance activities.
Based on the stories of the soldiers and local residents, an opera called Sparks amid the Reeds was created and staged in 1958.
After several revisions, the work was renamed Shajiabang and became one of the most prestigious operas during the "cultural revolution" (1966-76).
In more recent times, the reform and opening-up movement has resulted in many industries flourishing in the township, such as machinery, electronics and the manufacture of solar photovoltaic cells.
The township is regarded as a revolutionary education resort and is home to a number of attractions, such as a Revolutionary Traditional Education Area, the Redstone folk culture village and the National Defense Education Park.
It also boasts many honorary titles, such as the "Model Town of China's Habitat Environment", and "National Beautiful Environmental Town". It is also one of the country's "historical and cultural towns".
The numerous trees and plants in the 414-hectare national wetland park are home to 139 kinds of birds. In recent years, Shajiabang's abundant tourist resources and beautiful natural scenery have attracted millions of visitors.
Guan Yitian contributed to this story.