Beijing, Xiongan boost road, rail links
Share - WeChat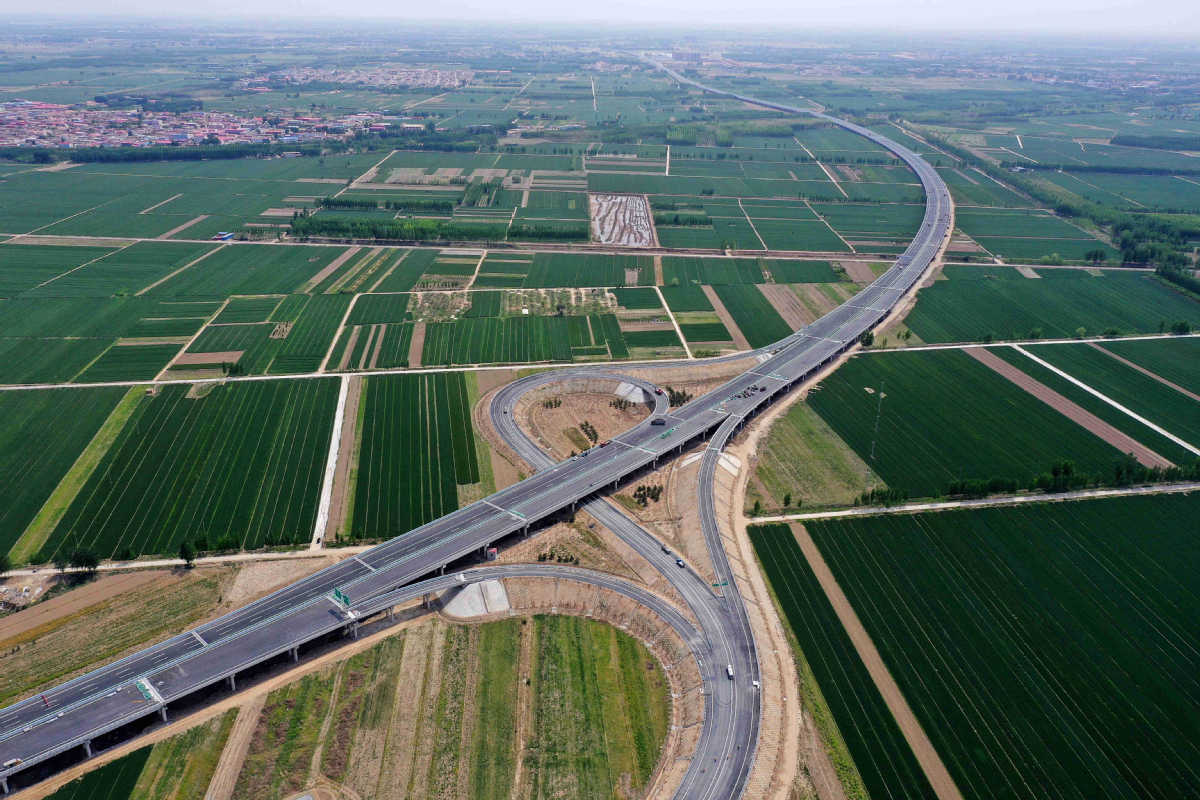 Major sections of three freeways connecting China's emerging Xiongan New Area will open by the end of this month, marking a milestone amid efforts to link the area with the rest of the country, the Ministry of Transport said on Friday.
The sections include two north-south freeways and an east-west expressway.
One of the north-south freeways will link Beijing and Xiongan. Its 75-kilometer-long Hebei section will open in two weeks, and its Beijing section is under construction, according to the ministry.
The freeway is expected to be fully opened by the end of this year. By then, it will take one hour to travel between Beijing and Xiongan, becoming the most convenient freeway linking the capital and the new area.
Another north-south freeway will connect Beijing and Dezhou in Shandong province. The line will pass through the capital's new airport, Beijing Daxing International Airport, official information showed.
The east-west expressway will link Wuhai in the Inner Mongolia autonomous region and Rongcheng in Shandong.
According to Xiongan's official transport blueprint, seven freeways-three running east-west and four north-south-will surround it as the new area's main external expressway network.
"The construction of major road projects linking Xiongan New Area is progressing well, and various types of roads are under construction to establish a network in and around the new area," said Wang Tai, deputy director of the ministry's highway bureau.
The new area has 27 major road projects, with a total length of 1,195 km and an investment of 186.6 billion yuan ($29 billion), according to Hou Zhimin, deputy head of the transport commission of Hebei province.
"Upon completion, the freeway network will take travelers to Beijing and Tianjin from Xiongan in an hour, and to Shijiazhuang, capital of Hebei province, in 90 minutes," he said on Friday, adding that it will establish a transport network with multiple hubs.
The new area also features as a "lab" for engineers to carry out intelligent transport trials. Along the Beijing-Xiongan freeway, 3,700 smart lamps have been installed that can adjust brightness based on prevailing conditions.
"The lamps will automatically dim when it is bright enough. They will switch to a power-saving mode when traffic levels are lower. This is to save energy and reduce the carbon emissions," said Zhang Mengqiang, an engineer working on the Beijing-Xiongan freeway.
He also noted that a lane is reserved for autonomous driving vehicles on the freeway.
According to the ministry, a comprehensive transport network with roads, railways, airports and ports is being built to ensure Xiongan's development and also boost the regional development of Beijing, Tianjin and Hebei.
High-speed and intercity railways and urban rails have been built in the area, such as the Beijing-Zhangjiakou high-speed railway and the Beijing-Xiongan intercity railway.
Road networks have been expanded across the region. Ports in Tianjin and Hebei have been under construction. Beijing Daxing International Airport has been put into operation. Four airports - Beijing Daxing, Beijing Capital, Tianjin Binhai and Shijiazhuang Zhengding international airports - have played their roles accordingly to boost integrated development of the region.