Fashion for a noble cause
Share - WeChat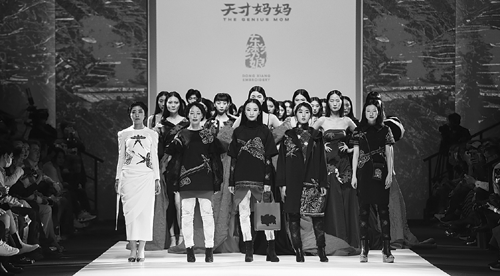 One fashion show that took place on April 13 during the 2021 Autumn/Winter Shanghai Fashion Week was a little more unusual than the others.
Together with professional models, five women embroiderers took to the catwalk to showcase more than 400 embroidered patches that were made by embroiderers from Dongxiang county, an underdeveloped area in Gansu province.
The show, which was launched by the China Women's Development Foundation, Country Garden Holding, Guoqiang Foundation, UCCA Center for Contemporary Art, and the Shanghai Fashion Week Committee, was part of efforts to help women in rural areas and promote the inheritance and innovation of intangible cultural heritage handicrafts.
Besides the fashion show, an art exhibition that displayed nine representative intangible cultural heritage handicrafts in China, including embroidery from Dongxiang, batik from Guizhou province, and Qiang embroidery from Sichuan, was also held in Shanghai from April 10 to 15.
"When we first saw these embroiderers in Dongxiang, they hid inside rooms because they were shy of seeing strangers. I am so happy to see them confidently showing off our traditional styles through a fashion show," said Luo Jinrong, deputy director of Guoqiang Foundation.
According to Luo, the foundation helped to conduct 20 embroidery training sessions in Dongxiang last year. About 1,000 embroiderers benefited from this initiative.
The foundation had on April 13 also donated 10 million yuan ($1.54 million) to the China Women's Development Foundation to support women embroidery projects in Dongxiang county.
According to Dong Kui, deputy secretary-general of the China Women's Development Foundation, the industrial hub that was built by the foundation in 2020 has helped nearly 1,000 women in Dongxiang raise their income levels through the sales of about 100,000 pieces of embroidery.