Barrier-free Beijing bookstore enables equal right to read
Share - WeChat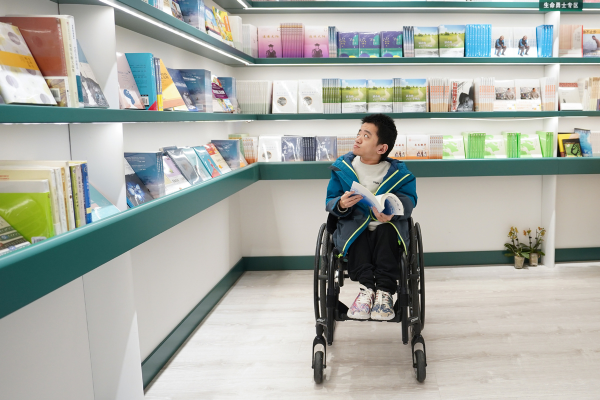 Liu Daming frequents a bookstore beside the second ring road in east downtown Beijing, often spending all day in the establishment. What attracts him is not only its extensive collections but also the convenient accessibility facilities.
"There is no accessible restroom in my office building in Zhongguancun, but there is one next to the bookstore," Liu said.
The 27-year-old was diagnosed with the rare osteogenesis imperfecta at a very young age. After undergoing 11 operations, he survived but was left wheelchair-bound for the rest of his life.
Nevertheless, overcoming countless difficulties along the way, he managed to study psychology in the UK before starting his own business in Beijing after graduation. What troubles him the most in his daily life is using the restroom. While in the bookstore, he feels "at home."
Shanyuan Book Chamber is a bookstore built according to barrier-free standards in the Galaxy SOHO complex in Beijing.
The bookstore has a collection of works written by renowned disabled people from around the world, including Zhang Haidi, Shi Tiesheng and Helen Keller, to name a few. On the shelves, selected historical and cultural books, as well as children's illustrated books, can be found.
"Our bookstore is committed to spreading love and care to a wide range of people, and we hope everyone can have a delightful experience here," said Zhang Zhihao, manager of the bookstore.