Barrier-free Beijing bookstore enables equal right to read
Share - WeChat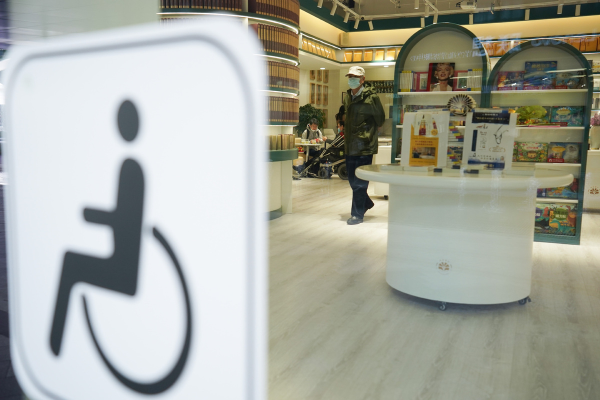 On March 18, Liu made a speech sharing his life experience and put his book "Beyond Destiny" on sale at the bookstore's opening ceremony.
Friday marks the annual "World Reading Day," and to celebrate the occasion, Zhang Danuo, who has supported the disabled in publishing books and guided Liu in writing, delivered a speech on "paying tribute to life" in the bookstore and shared his stories of caring for the vulnerable.
"In this age when electronic reading materials are popular, bookstores still have their significance and are even more indispensable to the disabled," said Zhang. "For them, being able to go out is a kind of happiness, and it is even more joyful to be able to read and meet friends at such barrier-free bookstores."
The bookstore of 308 square meters is fitted with barrier-free designs in every corner of its premises. All the bookshelves and tables are arc-shaped, and there are no thresholds or steps.
Luo Yan, a 65-year-old writer, said she finds the space between shelves in most bookstores is too narrow to allow her wheelchair to pass. However, in Shanyuan Book Chamber, she feels free to browse at her leisure. She is particularly fond of the wheelchair reading tables, which give enough space to fit her knees comfortably underneath.
The bookstore provides a variety of braille books covering science and technology, philosophy, employment and other genres.
At the end of the bookstore, there is a 19-square-meter mini cinema equipped with a speech-to-text device enabling the hearing-impaired to enjoy movies. The bookstore has over 300 specially dubbed films donated by the Communication University of China for the visually impaired.
"Even if there is only one person making an appointment to 'watch' a film, we turn it on for free," said the manager.