A master of the arts
Share - WeChat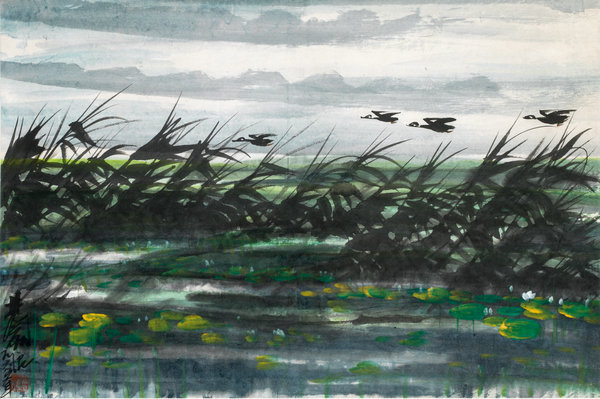 Environmental protection pioneer donates outstanding collection to university, Lin Qi reports.
Qu Geping has carved his name at the front line of China's environmental protection efforts over the course of nearly five decades. He was the first chief of what is now the country's Ministry of Ecology and Environment, and the founder of the nonprofit China Environmental Protection Foundation. He is committed to professional and public education on issues pertaining to the subject.
Qu developed an interest in classical Chinese art during his childhood and is adept at calligraphy. He is well-connected in arts and culture circles, befriending modern luminaries, such as Zhao Puchu, Qi Gong, Li Keran and Huang Zhou, among others.
Qu's associations with these renowned figures have helped him develop a keen artistic eye and assemble a collection that is evidence to his friendships with noted cultural personalities.
A recent donation Qu made to Tsinghua University in late March provides the public with a glimpse of the 90-year-old's wide connections and cultural insights. Qu was once an adjunct professor of Tsinghua University, and had contributed to the setup of Tsinghua's School of Environment.
It comprises 48 classical Chinese ink paintings and calligraphy works, which are now housed permanently at the Tsinghua University Art Museum. A large selection of them are on show at Like Strings of Splendid Beads, an exhibition at the museum which runs until May 5, as a celebration of Tsinghua's 110th anniversary on April 25.
Du Pengfei, the museum's executive director, says he first heard about Qu's wish to make the donation when visiting his home in early 2019. Du says he was not surprised at all by Qu's decision, because "he has always been a generous man who constantly pays back into society by contributing intelligence, hard work and wealth".