Artist promotes mechanical masterpieces
Share - WeChat Colossal cattle, huge horses made by entrepreneur draw attention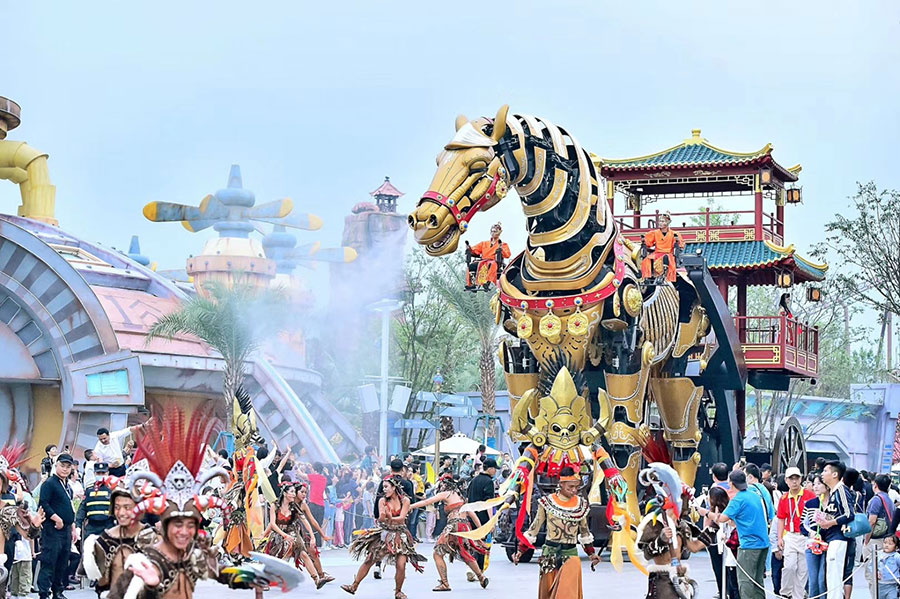 Watch video: Huge mechanical horse makes a splash
A 3-meter-high cattle-shaped and four smaller calf-shaped mechanical sculptures featuring traditional Chinese elements debuted on the stage of the China Central Television Spring Festival Gala of the Year of the Ox in February, attracting more attention to their creator Xiao Di.
With his steampunk-style creations, the 45-year-old entrepreneur based in Dalian, Liaoning province, aims to be an icon of "giant creature mechanical instrument art" in China.
According to Xiao, the cattle shapes were inspired by traditional woodworking forms such as carving, mortise and tenon and wooden connecting rods.
"Actually, they are the smallest ones I've made. I love to make giant sculptures that look like they're alive," he said. "Something huge is something amazing."
The first one Xiao made was an 11-meter-high mechanical horse that weighs 47 metric tons.
It was transported to Kaifeng, Henan province, in 2019 and has become a tourist attraction at a theme park.
A video clip showing Xiao interacting with the horse has attracted more than 1.8 million clicks on the short-video platform Douyin. In the clip, the horse blinks, lowers its head, opens its mouth and puffs toward Xiao while he gently fondles its face.
"The horse can reach 12 meters high while rearing up, and its head is nearly 3 meters long. Undoubtedly, its 'interaction' with people can have a strong visual impact," Xiao said.