China-US medical school collaboration boosts innovative education
Share - WeChat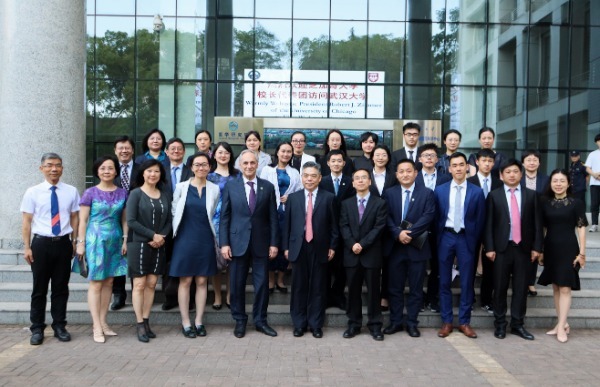 Back in 2008, Wuhan University in Central China's Hubei province and the University of Chicago started to cooperate on medical education reform at the former university based on the medical curricula of the latter's Pritzker School of Medicine.
Both universities recently held an online conference to share their achievement of the long-term project.
Renslow Sherer, director of the International AIDS Training Center at the University of Chicago, said that the core is to first develop the nucleus of teachers who are interested in innovation within the medical school curriculum.
Students will have immediate exposure to patients in the first year to give them experience with professionalism, so that they can understand the importance of showing respect for patients and relating to them.
They also reduce the overall time in lectures and encourage small groups of students to teach each other with the facilitation of a faculty member.
As for the global COVID-19 pandemic, Sherer believed people all have a public health obligation to wear masks, wash hands and maintain social distance, while the entire world is being vaccinated.
"We face two challenging problems. One is that the virus variants threaten the efficiency of vaccines and their response to the human immune system and antibodies. The other is vaccine hesitancy around the world–some people are skeptical of its efficacy or worried about side effects," he said.
Tang Qizhu, vice-chancellor of Wuhan University, said that both teachers and students benefited greatly from the problem-oriented teaching method of the medical education reform.
He hoped that Wuhan University will further its cooperation with the University of Chicago in other fields, for example, to enhance students' innovative thinking and the ability to deal with emergencies. He said it's essential to combine physics, chemistry and information technology with medical science.
"The outbreak of COVID-19 has brought us some enlightenment. On one hand, it's vital to do research into the pandemic's effects and the possibility of an outbreak of a new infectious disease. On the other hand, we should not neglect research into noninfectious and chronic diseases that endanger people's health, including cardio-cerebral diseases, diabetes and tumors,"he said.
Michael Millis, an expert in adult and pediatric transplant surgery from the University of Chicago, recalled that when he was invited to China as a guest speaker for an academic conference in 2019, he met a resident doctor from Peking Union Medical College who was also a graduate of Wuhan University. The young man told him that Wuhan University's reformed curriculum allowed him to understand innovative and independent thinking and compassionate care to patients.
The University of Chicago also has educational collaborations with hospitals, universities and medical schools throughout China, such as a bilateral residency education program between the University of Chicago and Peking Union Medical College. The outbreak of COVID-19 has made them do such training programs via online conferences to educate their residents.
Most Popular