New medics learn about Norman Bethune's spirit of sacrifice
Share - WeChat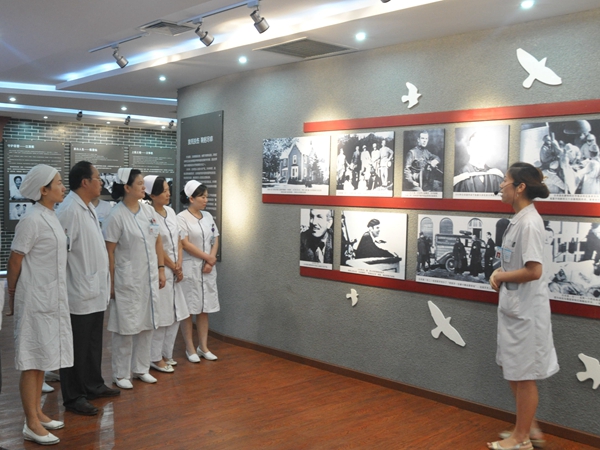 About eight decades ago, Norman Bethune, a member of the Canadian Communist Party and a well-known thoracic surgeon, came to China during the War of Resistance Against Japanese Aggression (1931-45). During his stay in the country, he helped to save thousands of lives but died of blood poisoning in 1939.
His humanitarian contribution to China has been commemorated by generations of Chinese people. His legacy, particularly, is being invoked as the country prepares to celebrate the 100th anniversary of the Communist Party of China this summer.
Wuhan in Hubei province was the first Chinese inland city Bethune and his medical team visited in January 1938 after being dispatched by the Canadian Communist Party and the Communist Party of the United States.
At the time, the city was victim to a frantic bombing campaign by the Japanese invaders, and Bethune led his team, working day and night for a week, to save wounded Chinese soldiers at a clinic, which is now known as the Fifth Hospital of Wuhan, says Li Shaoting, who works at the Bethune Memorial House in Wuhan.
There is another part of Bethune's China story that is less known.
On Jan 20, 1938, Zhou Enlai, then a leader of the CPC's Eighth Route Army, met with Bethune and his team, briefing them on the circumstances of the war and saying "there is nothing we can give you, except for difficult work; and there is nothing you can gain, except for the gratitude of the injured and the sick".
During his short stay in Wuhan, Bethune visited a local army hospital where he was shocked by the musty smell, reused gauze, broken glass and patients who had died before getting treatment, says Song Jian, deputy director of the Wuhan Municipal CPC History Research Office.
Later, Bethune got to know from Jiang Qixian, an army official, about the shortage of medicine and equipment on the front line. He reported the circumstances back home, and soon got bandages and other medical supplies from overseas donors.
"Bethune's experience in Wuhan was important in his China journey, as he learned about the army's determination to fight fascism and strengthened his resolve to help on the front line," says Song. "The brave and unyielding spirit of the heroic city of Wuhan also impressed him."
Most Popular