International appeal
Share - WeChat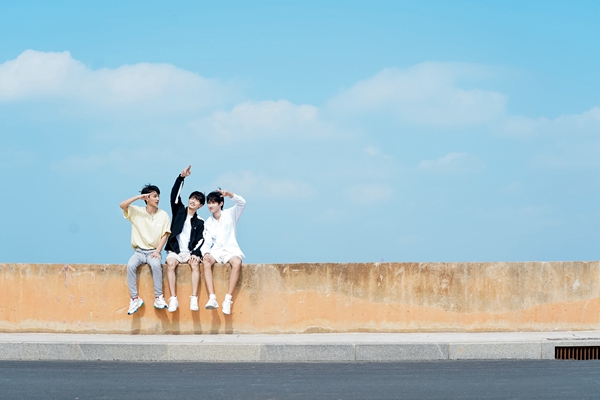 More opportunities
For Caelan Moriarty, 20, who was born to a Japanese mother and an Irish American father and now a resident in Tokyo, one of the most important things for an international boy band member to learn is how to "appreciate and embrace each other's cultures".
For the past six years, Moriarty has been making a foray into the Japanese music scene with the Tokyo-based, mixed-race boy band, Intersection.
The COVID-19 pandemic heavily affected the band's schedule last year. "Everything kind of just came to a pause," recalls Moriarty.
He says that what he really loves about the program is that it shows not only onstage performances, but also what happens behind the scenes.
"People would just assume that I was always an energetic kid as I was the youngest member of Intersection. I think nobody really knew who I was behind the image," says Moriarty. "Here, I can show my real self and my serious side as well."
Budding actor Ichika Uehara, 29, another Japanese contestant, also believes that the show gives him an opportunity to demonstrate to people who he is.
"I was once a fat boy who longed for other people's attention and affection. I wanted to be an idol who can perform onstage just like a shining star," the Waseda University graduate says.
Uehara has a younger brother who has successfully forged a path as a pop idol after joining a similar talent show in Japan. He is adamant, however, that he doesn't want to live in the shadow of his sibling and just "be known by people as someone's brother". Instead, he is hoping to create a name for himself.
Uehara confesses that he was surprised to be invited to join the show as his age is widely regarded in Japan as "too old" for a "beginner" in the idol industry.
Nevertheless, he holds that, as it is an emerging sector of the entertainment business in China, it seems to be more inclusive and more willing to embrace diversity.
As a multilingual speaker who is fluent in Japanese, English, Chinese, Korean and Filipino, he volunteers to be a translator for other trainees in order to ensure that nobody on the show feels marginalized because of language barriers.
For 18-year-old Nattawat Finkler, a Thai contestant with the stage name Patrick, this is his first visit to China, and he has been working hard to learn Chinese over the past few months.
Last year, his compatriot Pornnappan Pornpenpipat, a Thai singer-dancer with the stage name Nene, successfully broke into China's entertainment industry as the only foreign member in girl group BonBon Girls. That has inspired Finkler to test the waters himself.
"One thing that I really have to prepare myself for is being alone in a new country without knowing much about the culture," he says.
Finkler tries to talk in Chinese on a daily basis, writing down new vocabulary in a notebook to improve his language skills.
"I think learning ancient Chinese poems helps a lot. It will not just help me to learn the language, but also get me closer to the culture and history," Finkler says.
In the training camp where the contestants are not allowed to use mobile phones, despite their diverse cultural backgrounds and language barriers, a strong cohesion has developed.
Finkler and his Chinese compatriot, Zhang Xingte, encourage each other during the exhausting training sessions.
Zeng Hanjiang, a Chinese rapper, uses simple English words to communicate with his foreign peers and has become one of the best friends of Hawaii-born hopeful, Mika Hashizume.
Another trainee Yu Yang is Uno's roommate. Although he can't speak Japanese, he still often seems to understand Uno.
Young people meet each other and then click; such storylines are ubiquitous in the camp and provide a welcome display of acceptance, understanding and compromise.