Music captures the spirit of Wuhan
Share - WeChat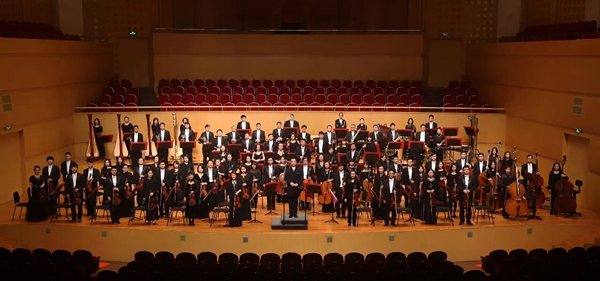 New composition to honor the city's people will be performed in Beijing, Chen Nan reports.
In early 2020, Wuhan, the capital city of Hubei province, was hit hard by the COVID-19 pandemic. All public transportation and businesses were suspended, and residents were required to stay indoors to help cut transmission.
Zhang Shouzhong, president of the Wuhan Philharmonic Orchestra, along with his colleagues, sprang into action. They worked as volunteers to help residents living in nearby neighborhoods by delivering supplies, food and carrying out temperature checks.
While doing his volunteer assignments every day from 7 am to 7 pm, Zhang considered the orchestra's first concert when the pandemic had passed.
He called his friend, composer and conductor Shao En one day in March. They agreed to create an original composition dedicated to the city of Wuhan and the people who fought against the pandemic.
Given travel restrictions and social distancing rules, the process of writing the piece became an experiment in online collaboration.
The four-movement musical composition, titled Reborn From the Fire, jointly composed by Guan Xia, Shao En, Yang Fan and Huang Kairan, was premiered by the Wuhan Philharmonic Orchestra under the baton of Shao on Aug 15, at the Wuhan Qintai Concert Hall. Zhang notes that the four composers worked voluntarily.
To commemorate the first anniversary of Wuhan ending its 76-day lockdown on April 8, 2020, the Wuhan Philharmonic Orchestra will perform Reborn From the Fire, under the baton of Shao at the National Center for the Performing Arts in Beijing on Thursday, as the opening concert of the NCPA's annual event, the China Orchestra Festival. This monthlong event showcases and promotes the country's symphony orchestras and works by Chinese composers.