Beijing unveils plan for Mideast security
Share - WeChat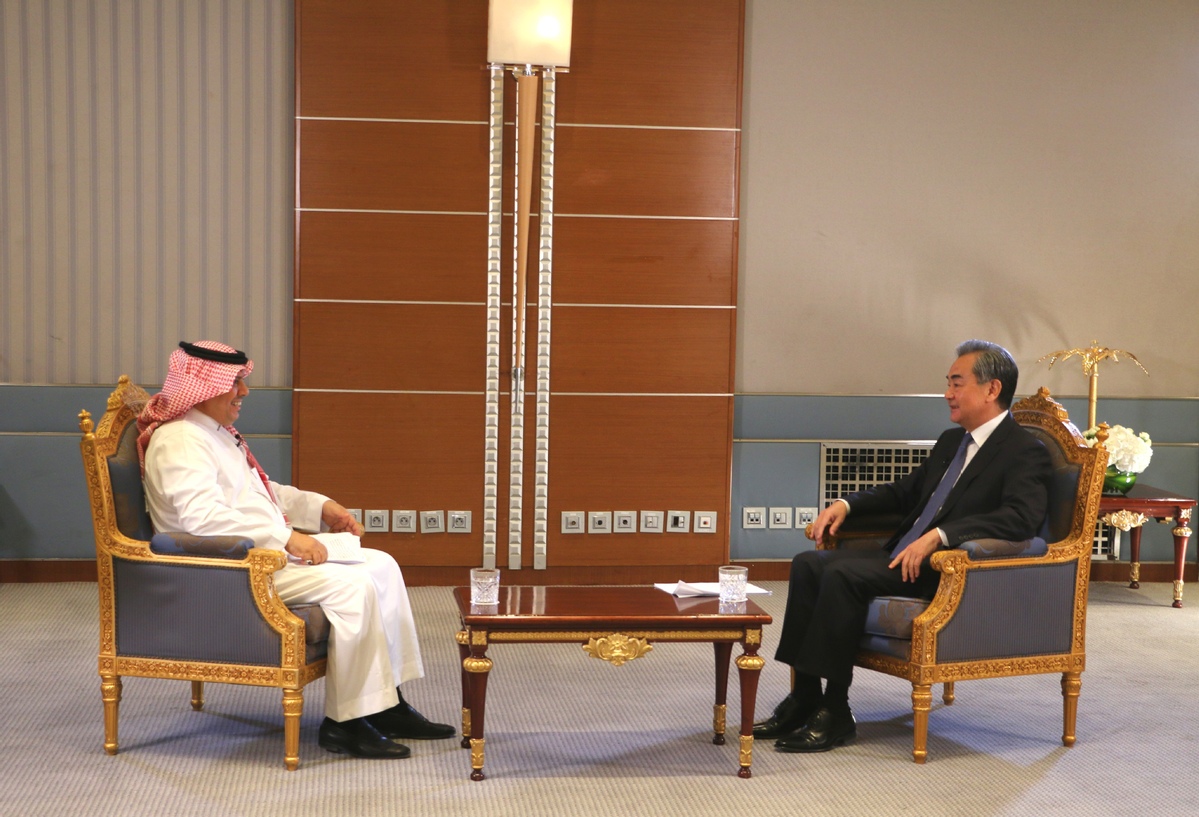 Israel, Palestine negotiations supported; Iran nuclear deal identified as a priority
Beijing has unveiled a five-point proposal for achieving security and stability in the Middle East by offering constructive boosts to Palestine-Israel dialogue, resuming the Iran nuclear deal and building a security framework in this region.
China welcomes direct negotiations between Palestine and Israel to take place in the country, according to State Councilor and Foreign Minister Wang Yi's interview with Saudi Arabian broadcaster Al Arabiya earlier this week.
Peaceful figures from both sides will be further invited to travel to China to embark on dialogues, said Wang, who is on a six-stop Middle East trip that started on Wednesday.
China is ready to push for the United Nations Security Council's comprehensive review of the Palestinian issue and reconfirm the "two-state solution" as its Security Council presidency is set to start in May this year, Wang added.
On the Iran nuclear deal, Wang identified top priorities for both the United States and Iran, the two key players in the lingering nuclear issue.
Washington should take substantial steps to ease unilateral sanctions upon Teheran and its "long-arm jurisdiction" upon third parties involved, while Iran, in a response, should resume honoring its nuclear-related commitments and achieve an "early harvest", he said.
All parties should move toward the same goal and discuss formulating a road map and timetable for the US and Iran to resume fulfilling the Joint Comprehensive Plan of Action that was adopted in 2015, he said.
The US quit the deal in 2018 under the Trump administration. Iran suspended fulfilling the deal last year.
At the same time, the international community should support the efforts of regional countries in establishing a zone free of nuclear weapons and other weapons of mass destruction in the Middle East, Wang added.
Speaking on the collective security in the Middle East, Wang highlighted the need to crack down on terrorism and advance deradicalization processes.
China is calling for hosting a multilateral dialogue meeting on the Gulf region's security, and parties could first pin discussion on securing oil facilities and shipping lane security, Wang said.
In addition, China vows to promote mutual respect and peaceful coexistence in the region, and is ready to advance cooperation related to development, Wang added, highlighting areas such as economic recovery and reconstruction in conflict-torn countries.
China is willing to maintain communication and close coordination with all parties on the above-mentioned initiatives, Foreign Ministry spokeswoman Hua Chunying said on Friday.
"For the Middle East, the fundamental way to shift from chaos to order is to escape from the geographical game among major powers, mitigate interference and pressure from outside the region, explore the development path with its own characteristics, and build a security framework that takes into account the reasonable concerns of all parties," Hua said.
China has signed documents with 19 countries in the Middle East on co-building the Belt and Road Initiative.
Last year, trade volume between China and Arab countries was close to $240 billion, and China remains the largest trading partner of Arab countries as a whole.
On China-Arab ties, Wang noted that Saudi Arabia has pledged to host the first China-Arab summit, and Beijing is working closely with Riyadh to make the gathering a success.
Wang also appreciated staunch support by Middle East nations of China's justified position regarding Xinjiang and Hong Kong.