Crowds sign up to support HK electoral improvements
Share - WeChat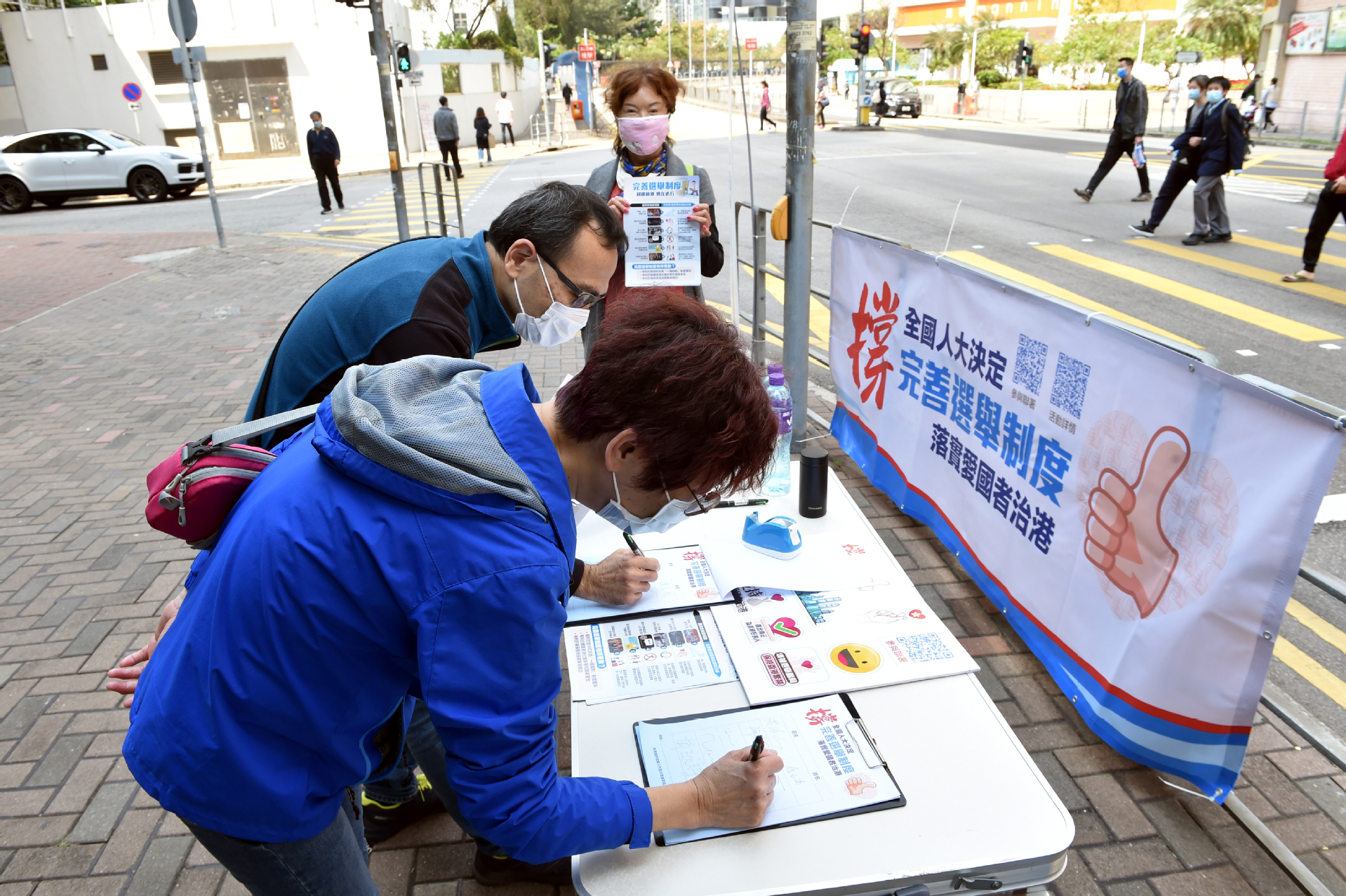 Hong Kong has seen residents in droves sign up to support a decision by the nation's top legislature to improve Hong Kong's electoral system.
Many groups in the city held signature campaigns to rally support among residents since the National People's Congress started to deliberate on the decision on March 5 at the beginning of its annual session in Beijing.
When signing his support, a 35-year-old clerk surnamed Chan said he supported the decision because he didn't want to relive the turbulence in 2019 again.
"One night I was trapped at the Mongkok metro station because protesters were out there setting fires and trying to break in," he recalled. "I was tired after a long day of work, but we had to be stuck underground."
Chan's fear was shared by Cheung, a 28-year-old mother of a kindergarten toddler and primary school pupil.
"My younger child was scared and started to cry when she saw a group of mobsters clad in black wreaking havoc in a shop downstairs," Cheung recalled, saying she doesn't want her children to grow up amid hatred and violence.
Chan and Cheung both feared being stuck when going to work or going to grocery shop and agreed that after the implementation of the National Security Law in Hong Kong in 2020, their lives regained peace and stability, as did the city.
But they believe that the NPC's decision to ensure the administrative power of the city is firmly in the hands of patriots will further safeguard their lives and the city's stability.
Chan expressed his satisfaction after the National Security Law took effect, when his life finally got back to normal.
"No more roadblocks, no more confrontation, no more excruciating waiting at the metro station," Chan said.
He also is happy to see there will be some improvement to the electoral system, since it will prevent lawmakers and district councilors from inciting innocent residents to go out on the streets for illegal activities, as some did in the protracted street violence in 2019.
At a signing booth in Wan Chai, a clerk surnamed Wong, who was constantly worried about street violence during the social unrest in 2019, hopes that after the city establishes the patriots-led administration via the electoral system improvements, the city will avoid a repeat of what happened in 2019 and normal residents will have more secure lives.
With the decision adopted by the NPC on Thursday, Hong Kong's streets will become crowded with a citywide, large-scale signature campaign, held by a newly-established alliance comprising cross-sector representatives.
The alliance plans to roll out a raft of promotions on the decision with online and offline signature campaigns to explain to the public the imperativeness and benefits of improving Hong Kong's electoral system. Many high-ranking government officials also came forward to sign their support.
On Friday, Secretary for the Civil Service Patrick Nip Tak-kuen signed his name at a booth in To Kwa Wan, Kowloon to support the decision.
By 5 pm Saturday, over 368,000 people had signed online to support the decision of the National People's Congress to improve the electoral system.
Chen Shuman contributed to this story.