Homegrown fast-food chain has done its tasty homework
Share - WeChat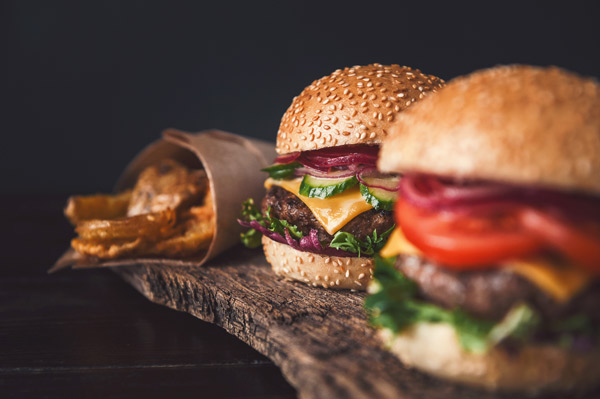 Munch, munch, munch, slurp.
Golden, crisp (and properly salted) french fries and a cold Coke-what on earth could be better?
How about a warm, luscious hamburger, delivered to your door, stacked high with crisp lettuce, tomatoes and a tangy sauce atop a perfectly grilled wagyu beef patty nestled in a fresh, glazed, seed-covered bun? (And that's just the basic burger.)
There's a new kid in town, and Beijing's fast-food players should sit up and take notice.
New Yobo is the new kid's name. And from what I've seen so far, this homegrown wonder has the potential to overtake, on its home turf at least, the better-known Western giants like Burger King, McDonald's and KFC.
Not so long ago, I couldn't even tell you the name of this newly discovered hamburger maker, because it lacked an easily identifiable label or logo-short of the misspelled "beaf" burger written on its wrappers.
Yet this Chinese chain, by paying attention to taste, quality and consistency, has quickly catapulted to the top of my food-delivery list, and it continues to earn due respect.
By way of illustrating the constant upgrades, this Chinese burger standout apparently goes so far as to proofread its wrappers. That misspelled "beaf"? It's been fixed, and one of the company's logos, a big "N" with a crown, is now splashed all over its bright yellow bags.
That's the kind of attention to detail, in addition to the newcomer's delectable menu, that caught my eye.
The company, to be clear, is unaware of this shoutout and has offered me nothing in exchange. New Yobo has simply provided ample inspiration via its tasty menu, consistent quality and usually prompt delivery time. (One order arrived in eight minutes, though originating several kilometers away, and everything was fresh and hot, so forget any notion the food was pre-made and waiting.)
As for taste, take the Chili Burger as a good example. It begins with a fresh, high-quality bun, Australian beef, cheese, crisp lettuce, a fried egg and a mix of tangy and mild sauces, to which is added a generous helping of tender, Chinese-style bacon. Then comes the masterstroke: a handful of zesty jalapeno peppers, whose zing achieves harmony with the yin-and-yang sauces and other flavors. It's basically an endorphin blast.
Or consider the sweet-potato fries, the best I've had anywhere. As a former burger/fry cook, I can perhaps guess at their secret. Sweet potatoes don't hold up as well as regular potatoes in the frying process, yet New Yobo's have a crisp outer coating. I suspect that's the result of an initial, low-heat "blanch" frying, a cooling-off period for the starches to settle, and then a second frying in much hotter oil, which would provide that outer crunch and inner tenderness. However they do it, it works.
And don't overlook the well-seasoned lattice-cut fries, spicy chicken drumsticks, crispy chicken sandwich and exceptional "standard" fries. Also recommended is the mouthwatering cheese fried chicken, which comprises morsels of real, non-processed chicken, breaded and then fried to seal in the juices and natural flavor, with a side of nacho-style cheese for dipping.
Sandwiches are neatly wrapped in butcher-type paper, and the hot items are often (alas, not always) enclosed in an insulated bag, a more recent upgrade. (But seriously, ditch the staples, which can so easily cut your hand as you pull items from the deep bag!)
Its mastery of the burger business indicates New Yobo's management has been well-schooled in the Western ways of fast food. The company's overall consistency speaks to a franchising model (Beijing has a handful of stores) with huge room for expansion in China's capital and beyond.
I have no idea what a "yobo" is, but it transcends language and has come to signify reliable quality and remarkable flavor. And the best part is, the price is right.
Now, back to that burger.
Contact the writer at jameshealy@chinadaily.com.cn