Weaving magic through determination
Share - WeChat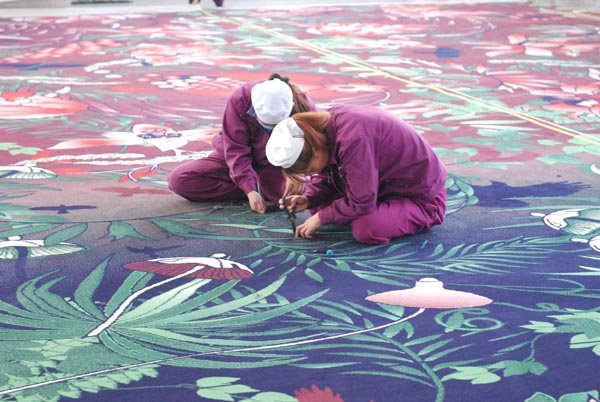 Tibetan-style carpet maker finds a global market after years of research and innovation, Xu Haoyu reports.
At the beginning of the year, Shengyuan Carpet Group knitted a special product, you could say, by mail order. A China Post stamp of the Chinese zodiac animal, the ox, was itself reproduced onto a hanging carpet, creating a unique cultural and creative product that highlights the Tibetan craft of intricate weaving.
Tibetan carpet-making, which originated from the highlands in western China, is a traditional craft with a long history. It was already a popular method of paying tribute to emperors in the Ming (1368-1644) and Qing (1644-1911) dynasties.
Shengyuan Carpet Group, also known as SYG Carpet, was established in Xining, the capital of Qinghai province in Northwest China. It has witnessed and participated in the development of the Chinese carpet industry, like a piece of tile on the Great Wall.
"Our business is driven by four values-professionalism, excellence, innovation and being 'green'," says Xue Ting, 37, the founder of the company.
In 2007, an industrial park was built in Qinghai, and policy encouraging the development of local characteristic industries and Tibetan carpet industry, including preferential terms of tax and loans, was released.
Xue, who graduated from Shanghai University of Finance and Economics that year, noticed the business opportunity and founded a company as a manufacturer of woven carpets and hand-knotted rugs for both residential and commercial use in Xining.
"My interest-artistic design and cultural heritage-has led me onto this path," Xue says.
Most Popular