A chip off the old block
Share - WeChat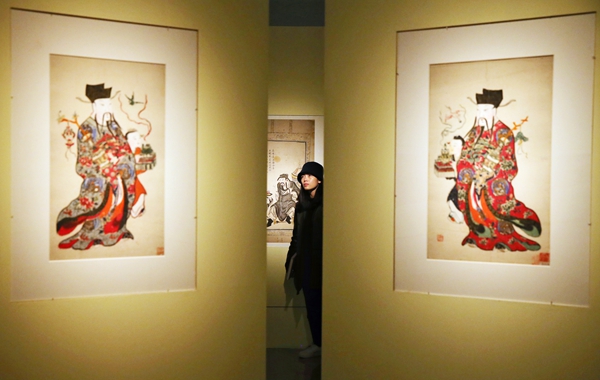 A fifth-generation artisan from Hubei province is working hard to keep the craft of traditionally printed New Year paintings alive, Wang Kaihao reports.
As Spring Festival nears, Chen Hongbin prepares for the busiest time of his year.
Deftly manipulating a carving knife, the 43-year-old man from Laohekou, a county-level city in Xiangyang, Hubei province, is immersed in the craftsmanship of his work. The woodblock prints, which duplicate auspicious New Year paintings, have become his way of welcoming another year.
"Local people here recognize them as cultural icons," says Chen proudly. "They still 'invite' these paintings into their home for Spring Festival. It's a tradition.
"But those printed by machines are more often seen today than my handmade ones," he laments. "What I'm running is not a big operation."
After all, compared with massive machine rollouts, a handmade New Year painting will take at least a month to make, starting with the carving of the blocks.
Chen and his wife run a home workshop. Learning the craft from his grandfather, he is the fifth-generation artisan in the family, who's devoting his life to woodblock prints.
Laohekou woodcut New Year painting was inscribed onto the national-level intangible cultural heritage list in 2011.
According to Chen, its history can be dated back to the Ming Dynasty (1368-1644), when massive construction of Taoist temples was initiated in the nearby Wudang Mountains, now a UNESCO World Heritage site. Artisans came from all over the country, bringing their crafts with them.
When talking about woodblock printing, for many in China, it is the Yangliuqing New Year paintings from Tianjin that will come to mind first. However, unlike the Yangliuqing products, in which artisans add some color to the pictures with a brush after the printing process is done, all of the colors in Laohekou paintings are applied by printing.
"A painting needs to be printed several times, with the wooden blocks having to be dyed in a different color each time," Chen explains. "It is a far more complicated process."
Time and technology has taken its toll on the craft, though. With people's changing lifestyles and the introduction to China of industrialized printing processes, Chen's workshop is now the only surviving traditional woodblock print studio in Laohekou.
In China, the hanging of New Year paintings with auspicious patterns or patron deities on doors is a key Spring Festival ritual to hope for prosperity in the new year.
According to Li Zhenyu, a fine arts professor from Sichuan University, Chinese New Year paintings can be dated back to the Han Dynasty (206 BC-AD 220) when a pair of images depicting the deities Shenshu and Yulyu appeared on doors to ward off evil spirits. The variation in themes and imagery grew more abundant when the secular lives of people during the Tang (618-907) and Song (960-1279) dynasties fueled the influence of Buddhist art on the craft.
"Animals, warriors, figures from the literati and many more images began to appear," Li explains. "The paintings stood for not only religious beliefs, but also common wishes in our collective psychology."
During the Ming Dynasty, when colorful woodblock prints were commonly used in people's daily lives, the development of New Year paintings was also greatly propelled.
"They evolved into a carrier for the aesthetics, and finally, our understanding of Spring Festival," Li says.
Sometimes, they also bear the collective memory of history.
Xiangyang was a strategically pivotal city during the Three Kingdoms (220-280), when different warlords were embroiled in various bloody feuds. Wartime legends from that time compose a key theme in Laohekou's New Year paintings.