Weaving magic through determination
Share - WeChat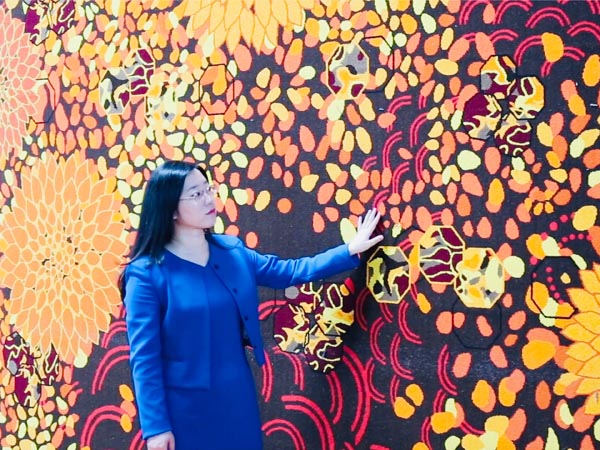 However, Xue soon found that machines that are made in China couldn't support high productivity. Craftsmen were stuck with repeated, automated and tedious work. She recalls that many high-end multinational hotels in China had to ship big and heavy carpets made in other countries to China, because no Chinese company could deliver such work.
In 2008, she went to Belgium to promote the transformation and technical upgrading of the company. She visited the country several times and spent more than four months there, learning the operation of the modern Axminster loom.
Xue recalls that when she had trouble understanding the professional terms or specific instruction of the machine, workers would immediately take her to the workshop and explain them to her carefully. She describes that training process as a beautiful memory, living and eating together with local workers like one junior staff.
Finally, she brought back two of the latest high-speed program-controlled Axminster looms. After the improvement of capacity, the company knocked on the door of a broader world and sold products to hotels, resorts, conference centers, cruise ships and other large public areas.
In 2009, the company received its first export order from Marriott Hotel in Dubai, officially entering the global market.
To better realize her dream, Xue successively claimed a master's degree in management from the University of Durham in the United Kingdom in 2009, and another master's degree in business administration at Tsinghua PBSCF in Beijing last year.
She agrees with the opinion of Wu Xiaoling, who's the former dean of Tsinghua PBSCF. "Wu once said that people who make great achievement always follow the trend. Understanding the general trend of future policies broadens the vision while looking at a business, and it helps to find the right direction," Xue says.
Following the expansion of the company, Xue purchased more Axminster looms from Belgium. In 2012, Shengyuan achieved an annual production capacity of 2.9 million square meters, annual sales revenue of 100 million yuan ($15.5 million), and export earnings of $7 million.
Xue didn't let the machine replace all the manual work. Craftsmen are still able to complete a beautiful carpet by tufting with hand, to add a stronger three-dimensional feeling to the outline of patterns.
The hand-knotted Tibetan rug is still the company's specialty.
Tibetan sheep wool remains the raw material. This is characterized by long fiber length, moderate hardness and strong elasticity. The carpet surface is soft and delicate, and washing does not cause fading.
Later, the company upgraded again.