EV startup Byton may go public through merger
Share - WeChat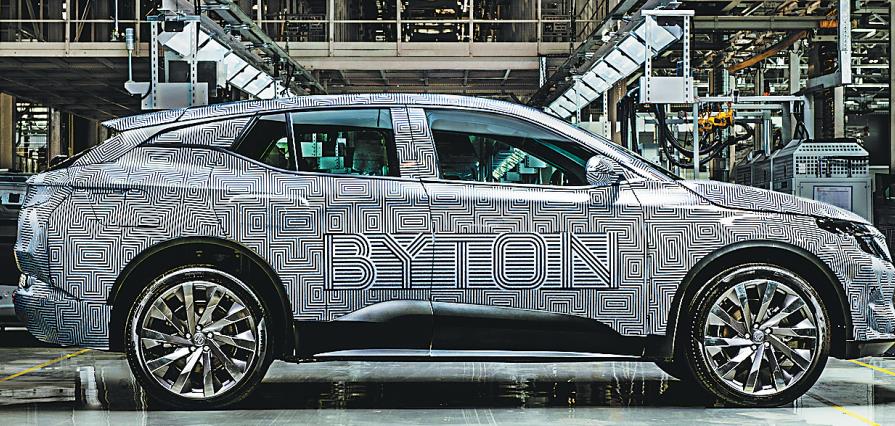 Chinese electric vehicle startup Byton said on Tuesday it will consider different ways to raise funds for its development, with a primary focus on ensuring its first model's mass production in 2022.
The announcement came after Reuters reported the startup, backed by Apple assembler Foxconn, is in talks to get listed as soon as this year, through a merger with a special-purpose acquisition company.
A SPAC is a shell company that raises money through an initial public offering to buy an operating entity.
Byton told China Daily that it won't comment on market speculation, but added that it will consider different ways of financing for the company's development.
"Currently our primary focus is to ensure the volume production of the first vehicle, the M-Byte," said a Byton representative.
The startup was launched in 2017 by former BMW and Infiniti executives. Its investors include FAW Group and battery maker CATL. Byton has a car plant in Nanjing, capital of Jiangsu province.
Byton has been facing cash flow problems since 2019, and the COVID-19 aggravated the situation and pushed the startup to the brink of bankruptcy in 2020.
Last month Byton sealed a deal with Foxconn and the Nanjing Economic and Technological Development Zone, and said its first volume model will roll out in the first quarter of 2022.
As part of the agreement, Foxconn will invest $200 million in the startup and will help build a supply chain for EV production to cut car manufacturing costs.
SPACs have emerged as a quick route to the stock market for companies, particularly auto technology firms, and have proven popular with investors seeking similar benefits to that of Tesla Inc's high stock valuation.
Electric car companies Microvast, Faraday Future and EVgo Services are some of the firms in the industry that have agreed to merge with SPACs so far this year, according to Reuters.