Byton shows first electric SUV model at Frankfurt auto expo
Share - WeChat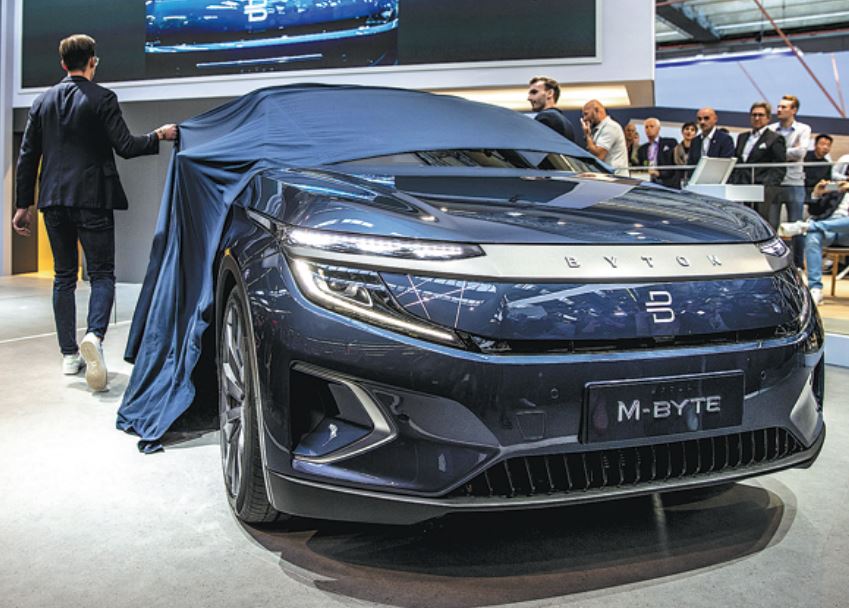 Chinese electric car startup Byton has unveiled the production model of its first SUV, the M-Byte, at the ongoing Frankfurt motor show in Germany. Deliveries of the new vehicle are expected to start in 2020.
"As one of the most important motor shows in the world, Frankfurt is a measuring stick for us," said Daniel Kirchert, Byton's chief executive officer and a former BMW executive.
He said thanks to the efforts of the team, the model retains 90 percent of the design of the concept vehicle, which was unveiled at the Consumer Electronics Show held in Las Vegas, United States, in 2018.
Established in 2016, Byton considers itself as a premium carmaker and sees German brands including BMW as its rivals.
The M-Byte has been designed as a smart device, and its cabin as another living space for drivers and passengers alike, which resonates with the company's name that means "bytes on wheels".
One prominent feature of the SUV, a 48-inch curved dashboard display runs from one side of the cockpit to the other.
There are extra touchscreens as well. For example, a seven-inch screen is mounted in the middle of the steering wheel, which is the driver's main control center. Passengers also get their own eight-inch screen, giving them control over the big screen.
The screens, combined with the vehicle's rotatable first-row passenger seat and ambience lights, Harman Kardon speakers and other amenities, have made the cabin a place to relax and chill out.
The model measures 4,875 mm in length, 2,195 mm in width and 1,665 mm in height. Having a wheelbase of 2,950 mm, it is available in five-seat or four-seat versions.
In terms of its mileage, the rear-wheel drive version can choose from two different battery packs of 77 kWh and 95 kWh, enabling the vehicle to run for 430 km or 550 km.
The four-wheel drive model will feature a 95 kWh battery pack, which can power the model for 505 km on one charge.
The M-Byte was developed based on Byton's flexible smart platform, which will also be capable in other models including sedans and MPVs, according to the company.
Byton has built a plant in Nanjing, the capital of East China's Jiangsu province. The 11 billion yuan ($1.6 billion) plant will have an initial production capacity of 150,000 vehicles a year and can expand to 300,000.
The company has acquired a production license through its partnership with China's State-owned FAW Group. It will also produce electric vehicles for FAW's premium Hongqi brand at its Nanjing plant.
The company said trial production will start soon and volume production is expected to begin in mid-2020. They will first be delivered to Chinese customers and enter the markets of Europe and North America in 2021.
To ensure its vehicles can meet quality standards, Byton is conducting tests in a number of countries including South Korea, Germany and the US on safety and other aspects.
Besides the M-Byte, Byton has other models in the pipeline as well, including a sedan and an MPV.
The startup said it is in the process of closing its C-round of fundraising for an estimated $500 m, and has raised some $820 m.