Geely, Foxconn to produce cars for other automakers
Share - WeChat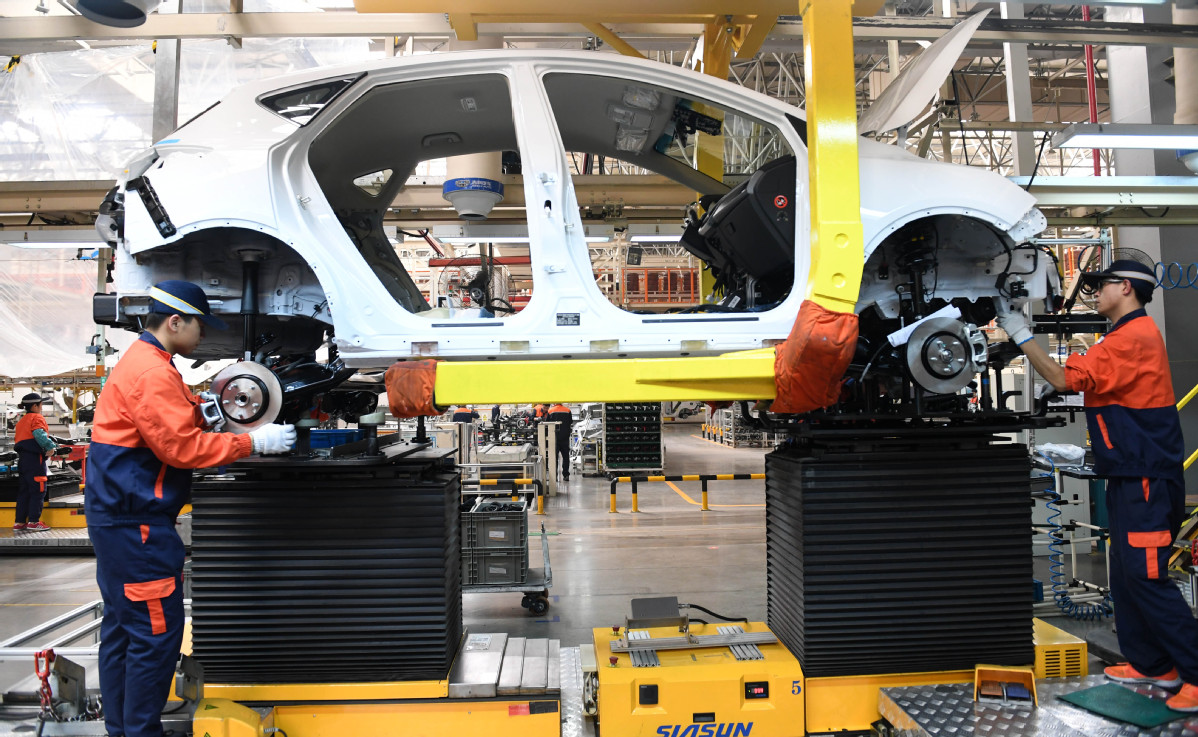 Volvo owner Zhejiang Geely Holding Group inked a deal with Apple maker Foxconn on Wednesday to produce auto parts and vehicles for companies that prefer to outsource production.
The two said in a statement that they will build a 50-50 joint venture, but did not give details about their investment, the location of the joint venture, and when it will start to take orders.
"The current global automotive industry is undergoing profound changes. We must actively embrace change, build alliances, and synergize global resources to create greater value for our end users," said Geely CEO Daniel Donghui Li.
Analysts call the collaboration a clever move, as a growing number of tech companies are making forays into the electric car segment.
For startups, building a plant costs billions of yuan, worker recruitment and training takes months, and overcapacity can be a problem for many, they said.
The partnership can save them the problems and make most of Geely's electric car platform unveiled last year.
Geely Chairman Li Shufu called the platform, which cost $2.64 billion, the biggest leap forward at the carmaker in a decade.
The electric car platform can accommodate smaller A-Segment cars as well as larger D and E-segment vehicles. It will also have a variant developed for light commercial vehicles.
Earlier this week China's search engine company Baidu announced a plan to produce vehicles with Geely, using the latter's electric car platform and its manufacturing capability.
Many other tech companies are making inroads into the carmaking industry. It is reported that Apple will sign a deal with South Korean carmaker Hyundai to produce vehicles. Japan's Sony has finished development of its first vehicle and is testing the model in Europe.
Besides its partnership with Geely, Foxconn is helping Chinese startup Byton with volume production of its first vehicle, which is scheduled to roll out in the first quarter of 2022.
The move is believed to help Foxconn accumulate some experience before it can produce vehicles for other companies.
Earlier last year, Foxconn announced a plan to build a partnership with Fiat Chrysler to develop and make electric vehicles in China.
In October 2020, the company unveiled its first electric-vehicle chassis as well as an open software platform. It will start shipping its first developer kit in April this year, according to Bloomberg.
Canadian company Magna has been one of the most popular choices for outsourced car production. Its customers range from traditional carmakers, including BMW, to the startup Fisker. In China, Magna established a plant with BAIC Motor Group to produce vehicles of its premium marque Arcfox.
Statistics from the China Association of Automobile Manufacturers said almost 1.37 million electric cars and plug-in hybrids were sold in China last year, up 10.9 percent from 2019. The figure is estimated to reach 1.8 million in 2021, said the association.