Hefei and Nanjing show NEVs could drive growth in mainland cities
Share - WeChat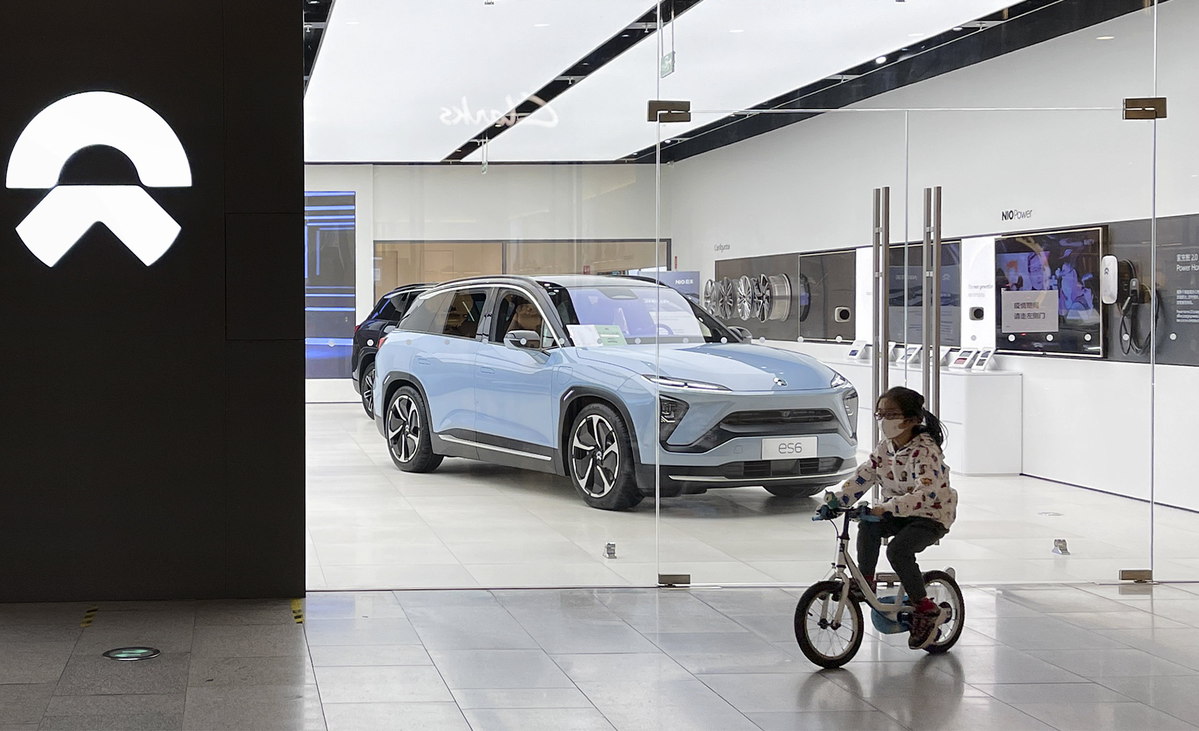 The first China-made vehicle, a Jiefang-branded truck, rolled off the assembly line in 1956 in Changchun, Jilin province. The city, known as the cradle of the country's auto industry, has since produced millions of vehicles of marques such as the indigenous Jiefang and Hongqi and the foreign Toyota and Audi.
In the new energy vehicle or NEV segment, however, Hefei, the capital of East China's Anhui province, is a better known name, mainly thanks to its hugely rewarding investment in Nio.
In early 2020, the city, through its State-owned investment arm, reached out to salvage the cash-strapped startup, acquiring a 24.1 percent share for 70 billion yuan ($10.8 billion).
Back then, the New York-listed carmaker was on the brink of bankruptcy, having failed to secure more finance for vehicle development and business operations. Its net loss was over 11 billion yuan by the end of 2019.
Thanks to people's increasing confidence in the sector and the success of Tesla, Nio has a valuation similar to Volkswagen AG's, the world's second-largest carmaker by sales, with its stock price surging 13 times to around $60 in less than a year.
Hefei is one of the many Chinese cities that are looking to the NEV industry in the hope of finding new economic drivers.
Real estate was a quick choice, but China is calling for efforts to cool down the overheated segment for healthy and sustainable development.
"To many, the investment in Nio was like a lucky and massively rewarding bet. Yet, a closer look will reveal that Hefei was determined to upgrade its local industry," said Roy Lu, director of the Gasgoo Auto Research Institute.
Hefei's pillar industries include household appliances. Official data show its annual output hit 100 billion yuan back in 2011, becoming the first of industries in the city to reach the milestone.
Yet, without new economic drivers, the city's GDP growth slowed down from 9.8 percent in 2016 to 7.6 percent in 2019.
The deal with Nio has sped up the city's growth through more lucrative high-end manufacturing. In November 2020, Hefei released a blueprint, planning to build an annual production capacity of 1 million NEVs in five years, with the industry generating an annual output of 100 billion yuan.
One month later, Volkswagen announced it would build a $3 billion electric vehicle plant in the city with its partner JAC. The German carmaker also increased its stake in the joint venture from 50 percent to 75 percent.
Volkswagen is also in the process of paying $1.34 billion for a major stake in a local battery maker. In January, another EV startup, Leapmotor, moved to Hefei.
Nanjing, capital of East China's Jiangsu province, is trying its hand with the industry again, after startup Byton's plant in the city stalled operations in 2020 because of financial difficulties.
Founded by BMW executives, Byton was one of the most promising startups in China, with its models expected to take on those from premium brands, including Audi and BMW.
With the help of the Nanjing government, Byton inked a $2 billion deal in January with Apple's contract manufacturer Foxconn, which will also help the startup to ensure that its first volume vehicle will roll off the assembly line in the first quarter of 2022.
Foxconn, with smartphone plants in the city, is planning to make Nanjing a production base of its automotive business, according to a source with knowledge of the matter.
Several days after its deal with Byton, it established an NEV company with a registered capital of 323 million yuan in Nanjing.
"This will allow us to contribute toward the further growth of the EV industry, a demonstration of our commitment in the transformation of the traditional automotive industry," said Young Liu, chairman of Foxconn, in a statement.
While encouraging the sector's growth, the central government is asking local authorities to be prudent to prevent overcapacity.
In November, the National Development and Reform Commission launched an investigation into NEV projects planned since 2015, to examine their construction and production.
Lu at the Gasgoo Auto Research Institute said local governments were more enthusiastic about the sector several years ago. They started to show restraint when a project involving US carmaker Saleen in Jiangsu province proved to be bogus in 2019.
Data show that from 2015 to the end of the first half of 2017, there were more than 200 NEV projects in the country, some planned and some under construction.
They involved projected investment of 1.03 trillion yuan and combined planned production capacity of 21.24 million vehicles. Last year, 1.37 million NEVs were sold in China.
"The cooperation between Nio and Hefei is a very positive case in the development of the NEV industry," said John Zeng, managing director of consulting firm LMC Automotive Shanghai.
"It shows that local governments should have a professional and qualified team, which can offer scientific project evaluation and investment suggestions, to avoid aimless development."