Stars see how villagers defeat poverty
Share - WeChat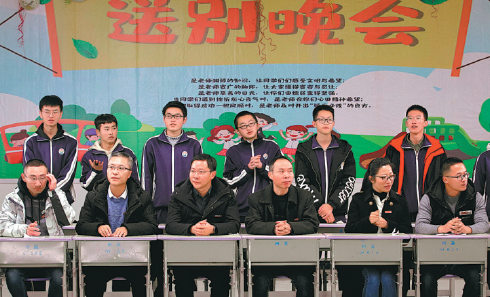 Local students at the Senior High School of Haixi in Delingha city, Qinghai province, attend a farewell party together with their teachers from Zhejiang province before their departure, as seen in the ongoing reality show, Precious Countryside. CHINA DAILY
A journey to far-flung areas, to new horizons, will ensure long-lasting and precious memories and expand your own personal horizon. For veteran host Hu Qiaohua-better known as Huashao, who is the producer and host of Precious Countryside-a recent trek to Delingha in Northwest China's Qinghai province has refreshed his knowledge about poverty alleviation.
Hu shot to fame on The Voice of China, Zhejiang Satellite TV's hit talent show. Precious Countryside, which he produces and hosts, is a variety show that leads a team of celebrities to rural or landlocked areas to see for themselves the country's achievements in ending poverty.
With an innovative blend of picturesque scenery and local lifestyles, the show has so far obtained a rating of 8.9 points out of 10 on the popular TV and film review site Douban, propelling it toward an anticipated second season, which is already in preparation.
"The show is built on an interesting theme with skillfully designed content," says one Douban user. "It helps audience to see China's achievements in poverty alleviation and the diversity of its cultures in a funny and entertaining way."
Hu and his "teammates"-singer Kong Xue'er, actor Xiong Ziqi and Chinese Malaysian singer Azora Chin-developed a deeper understanding of poverty alleviation from a visit to the Senior High School of Haixi in Delingha city, western Qinghai, in the latest episode, which was broadcast on Jan 24.
The result of a huge investment of around 167 million yuan ($25.8 million), the high school is the largest single project that the more prosperous Zhejiang province has carried out in Qinghai in the battle against poverty. Over the past four years, a total of 39 experienced teachers have been dispatched from Zhejiang to coach their local counterparts and also teach students at the Delingha school, the only high school in the city.
Some of the teachers from Zhejiang reveal on the show that their main challenge is dealing with the actual location of the city. Situated at an altitude of nearly 3,000 meters, most of the teachers from Zhejiang need to replenish their oxygen levels for at least 30 minutes before going to bed every night.
Through talks with teachers from Zhejiang province, Hu says he realized that pulling locals from poverty's grip not only improves their living conditions, but also gives them a new mental perspective.
"The teachers from Zhejiang province not only coach the students, but also help local teachers to improve their methods," says Hu, adding that the local students are becoming "more open and confident" after spending 18 months with the teachers.
At the invitation of a class of teenagers, Hu and the guest celebrities help the students to hold a special party to bid farewell to the six educators, whose tenure in Delingha is set to finish, seeing them return to their respective cities in Zhejiang.
"I was touched when seeing the students shovel snow to make four Chinese characters houhui youqi (we will meet again) on the school's playground," recalls Hu, adding that he believes the students will be encouraged to study harder and strive to achieve their goals.