Palace of secrets
Share - WeChat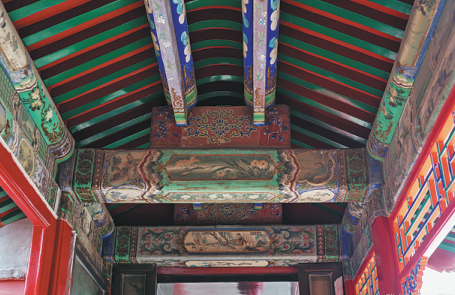 Thanks to the scaffold set up by the restorers within the hall, the film crew had access to the paintings hidden above the ceiling, enabling them to be able to capture the paintings on camera. The next time people will be able to physically get a view of these paintings will be centuries later, when the hall undergoes a full inspection once again.
"Ancient architecture is like a window into time and space. It can inadvertently unveil layers of historical information," Liang says, adding that the encounter with the wall paintings was a particularly memorable moment in the filming process.
"If architecture has a life of its own, individual human existence in comparison is transient and trivial. Architecture has the power to assemble the fragments of human lives into culture and history."
The documentary seems to have struck a chord with youngsters. With 3.7 million views to date on the Bilibili video streaming platform, which boasts a predominantly younger user base, it enjoys a rating of 9.8 points out of 10.
Meanwhile, on popular film and TV review site, Douban, Masters in the Forbidden City has posted a score of 9.1 out of 10. One of the top comments, by a user named Yu'an, says: "Amid the uncertainties of 2020, the Palace Museum has the ability to soothe people. In recent years there have been many shows and documentaries about the museum, but this documentary with its focus on ancient architecture preservation brought me new information and led me to the hidden corners."
Addressing the popularity of the documentary, Liang, who is also an associate professor of journalism and communication from Tsinghua University, gives his view on the likely reasons: "This is a documentary created from the perspectives of these ordinary people not often in the limelight, who are in fact extraordinary. They bring authenticity and affinity.
"Perhaps via these people and their devotion to their lifelong vocation, the audience can see a dialogue between individuals and history, and feel a sense of occasion and meaning in life."
Contact the writer at chengyuezhu@chinadaily.com.cn
Most Popular