New infection wave in Shanghai is controllable: Experts
Share - WeChat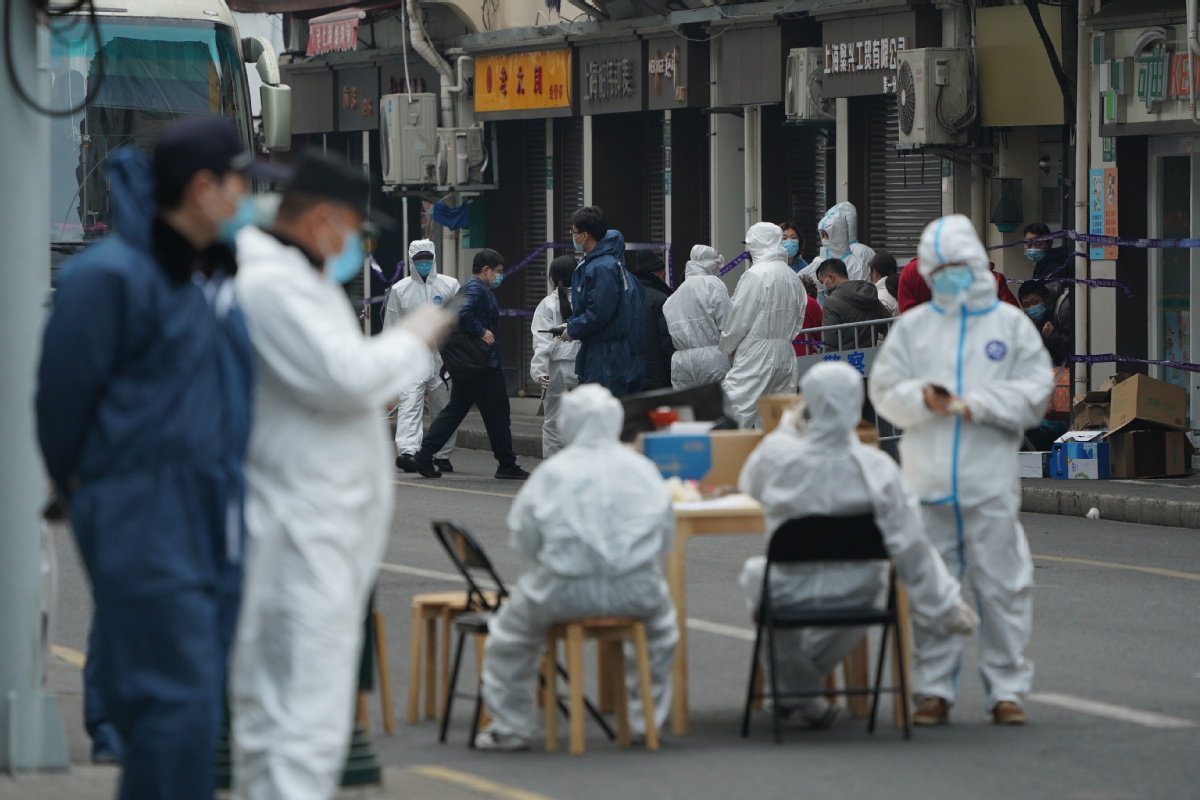 The newest wave of COVID-19 infection in Shanghai, in which 12 confirmed cases were reported from Thursday to Saturday, is still believed to be controllable, public health experts in the municipality said.
"None of the 12 locally-transmitted cases in this wave so far came from outside of the virus transmission chains in our epidemiological investigations. All of the cases were found through tracing relevant individuals of the confirmed cases," Wu Fan, a member of the public health expert team of Shanghai COVID-19 Epidemic Prevention and Control, said at a municipal press briefing on Sunday.
Chen Shu, chief physician in the Department of Infectious Diseases at Huashan Hospital Affiliated with Fudan University, said he has strong confidence in Shanghai's epidemic control.
"Shanghai has outstanding urban management capability, as well as a world-leading medical treatment level and public health system. Its residents have a strong sense of citizenship obligations and obeying social disciplines," said Chen, who also is a political advisor in Shanghai, during the ongoing annual sessions of the municipal legislative and political advising body.
The Shanghai Municipal Health Commission announced on Sunday that Guixi residential neighborhood in downtown Huangpu district was categorized as a medium-risk area for the spread of the COVID-19 virus, bringing the total of such areas in the municipality to four. Three are in Huangpu district and one is in north Shanghai's Baoshan district.
Wu Jinglei, director of the Shanghai Municipal Health Commission, said 218 close contacts in Shanghai related to the 12 confirmed cases have been identified and placed under hotel quarantine. Seven who tested positive for COVID-19 were already diagnosed and included in the confirmed cases.
More than 32,800 individuals related to the confirmed cases were screened through nucleic acid tests; two tested positive and were later diagnosed. They also were included in the 12 confirmed cases, he said.
"Among the 12 patients, three are aged 70 and above, including two who are both aged 84. Some of the patients suffer from chronic diseases, such as hypertension and diabetes. But all 12 patients are mild cases and are in stable condition," he said.
Wu Fan said investigations showed that most cases infected in this wave of the epidemic did not obey the good personal protection habit of wearing a mask.
She reiterated the importance of keeping good personal protection and hygiene practices.
"Residents must bear in mind to wear masks, wash their hands with soap and running water right after arriving home, and sneeze into an elbow. Such habits are invisible protection suits during epidemic prevention and control," she said.