Focus on food security pays off
Share - WeChat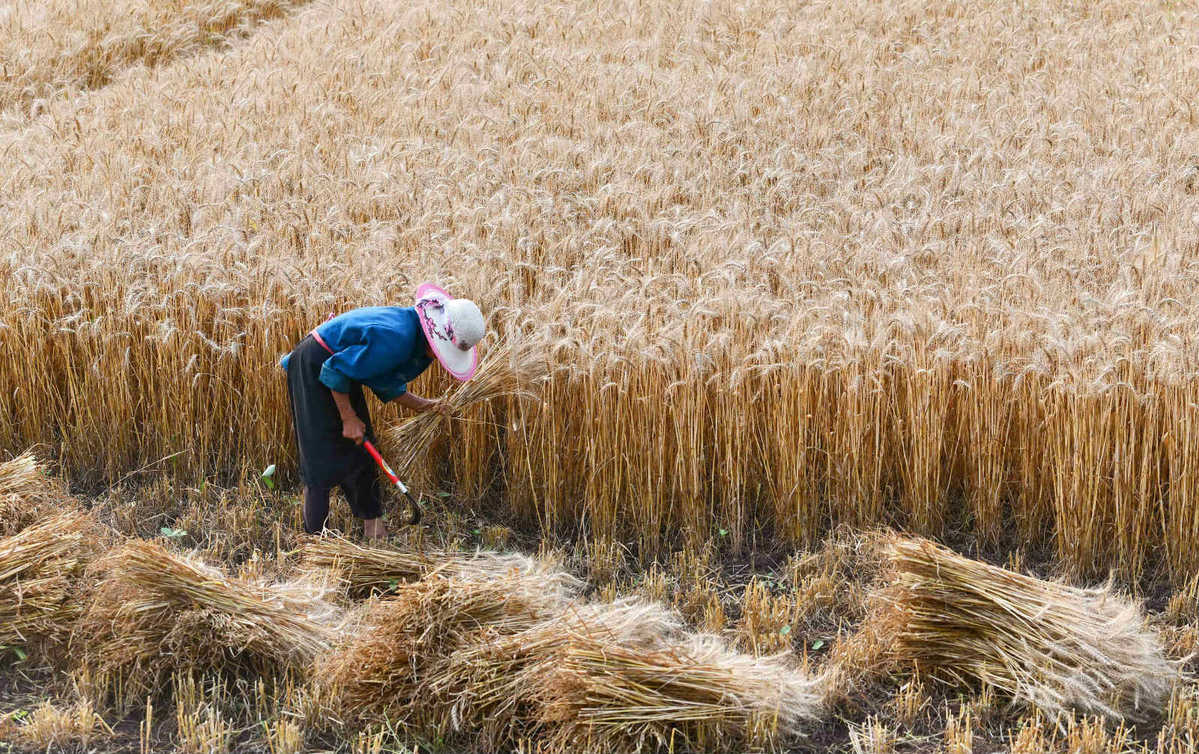 81.5 billion yuan investment has been used to improve grain quality and sales
China has put a lot of effort into boosting food security by improving grain production and quality over the past five years, which has helped ensure people's daily necessities amid the COVID-19 epidemic.
Since 2017, an investment of 81.5 billion yuan ($12.6 billion) has been channeled to various State-level projects for food security supervision, grain quality improvement and services for grain marketing and sales, according to a statement on Tuesday by the National Food and Strategic Reserves Administration.
"Some local governments and companies have also contributed their wisdom to speed up the improvement of food security," Qian Yi, director of the administration's planning and construction department, said at a news conference on Tuesday in Beijing.
Funan county in Anhui province has developed a new way of growing wheat that since 2018 that has given farmers means to manage their crops from the production stage to sales. As a result, about 20,000 hectares are being used in the production of high-quality wheat.
"In 2020, Funan also started its flour production line, which will be able to manufacture 300,000 metric tons of flour a year when finished. It's an important step to build an industrial chain and is of great help to consolidate the poverty alleviation work in the countryside," he said.
He added that Funan's production model and experience were promoted in 64 former poverty-stricken counties nationwide last year, increasing high-quality grain by about 70,000 metric tons and benefiting more than 800,000 households.
With grain production and quality steadily rising, the grain market operations are also stable.
Through last year until Jan 5 of this year, about 110 million tons of grains for the autumn season such as corn and beans were purchased by companies, a year-on-year increase of 5 million tons, according to the administration.
Grains stocks are also at a relatively high level, with some main provisions such as wheat and rice enough for one year of consumption, said the administration. Grain and oil products in big and medium-sized cities can secure people's consumption for more than 20 days.
Some imported grains are supplementary to the domestic market. Figures from the General Administrative Customs show that from January to November last year, there were 7.49 million tons of wheat and 2.23 million tons of rice imported.
The administration said that it will strengthen efforts to improve food security by using technology and enhancing people's consciousness of cherishing food.
"We now have state-of-the-art technology for food reserves, and we are promoting the reduction of losses during processing through bio-based materials and ecological technologies," Fang Jin, the administration's office director, said at the news conference.
He said that the promotion of saving food and cherishing grains is also important.
"We hope that people can get the idea in their minds that it's an honor to treasure food, while wasting food is shameful," he said.