Nation's e-buses vroom on roads across the globe
Share - WeChat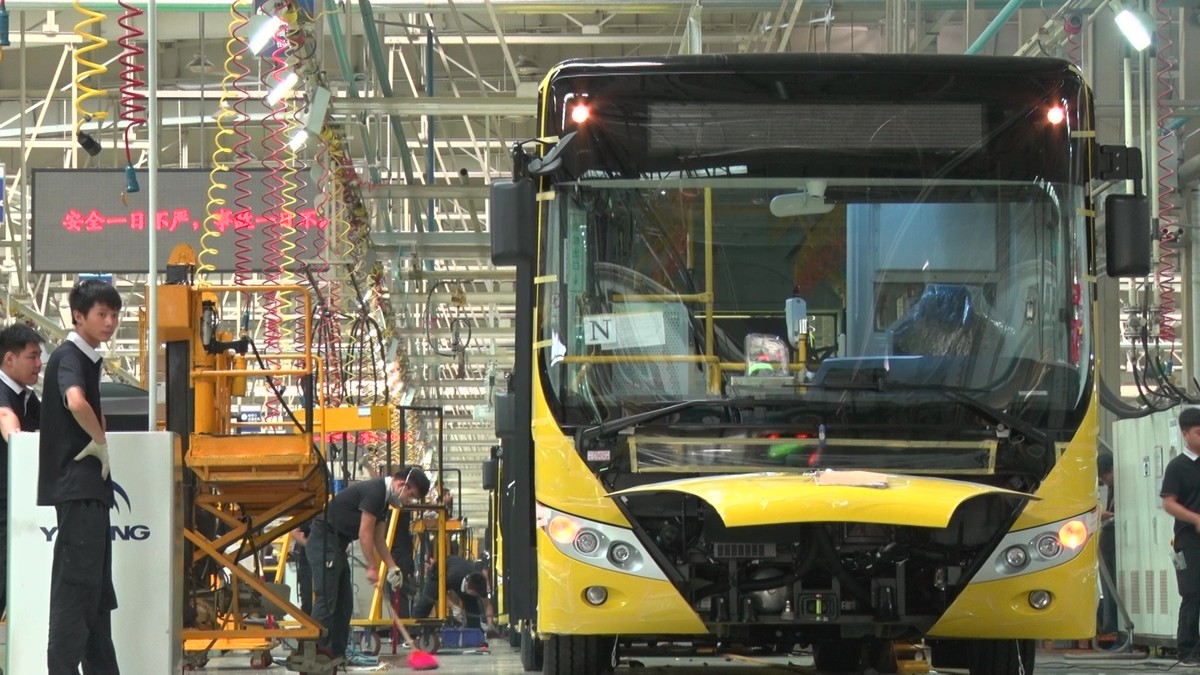 Chinese manufacturers are rolling out their smart electric buses globally as demand for environmentally friendly public transport vehicles is rising in many parts of the world, especially in Europe.
CRRC Electric Vehicle Co Ltd, the manufacturing unit of electric-and gas-powered hybrid vehicles of China Railway Rolling Stock Corp, the country's largest rolling stock manufacturer by production volume, announced that it received the green light to operate its autonomous buses on open roads in Paris last week.
This marks the first time that a China-made autonomous vehicle has entered the French market.
The 12-meter-long self-driving bus, manufactured by CRRC Electric Vehicle, features technology that allows it to safely navigate roads, taking pedestrians and other vehicles into account, said Yan Zhenhong, deputy general manager of the overseas business department at CRRC Electric Vehicle.
The vehicle's body structure is made of high-strength but lightweight steel, which ensures safety. In the next step, the e-bus will be tested and operated on a bus route in Paris.
Unlike road testing conditions in the home market, the road conditions of the French test line are relatively complex, due to dense traffic lights and narrow roads, which demand high accuracy and advanced self-driving solutions, said Yan.
In recent years, the company has been conducting demonstration services in a number of Chinese cities, including Beijing, Shanghai, Wuxi and Changsha.
Its buses already carry more than 10,000 passengers in China and have clocked over 50,000 kilometers of autonomous driving mileage.
Last week, Zhengzhou Yutong Group Co Ltd, the Henan-province-based commercial vehicle maker, announced that it provided $200 million to WeRide, one of China's L4-level autonomous driving companies, as part of the latter's series B1 round of funding.
Level 4 autonomy means that the vehicle can drive autonomously in most conditions without a human driver.
Last year, Zhengzhou Yutong established a spare parts warehouse in Lens, France, its largest such facility in Europe.
"With the new infusion of funds, we'll be able to join hands to drive autonomous driving applications in minibuses and city buses. We'll also explore the large-scale commercialization of fully driverless vehicles," said Tony Han, CEO and co-founder of WeRide.
Zhengzhou Yutong and WeRide have already developed China's first fully driverless mini Robobus, created for open road operations in cities.
The bus is a front-loaded, mass-produced model with no steering wheel, accelerator or brakes, said Cao Zhongyan, Zhengzhou Yutong's vice-president.
Even though the larger bus industry has been up against COVID-19-related challenges, Zhengzhou Yutong maintained its global expansion pace.
It won clients' confidence worldwide last year, thanks to its early deployment of capital and innovations in the affected areas. Among its innovations are 5G-enabled intelligent mobility solutions, electric buses and electric trucks, and 12-and 18-meter-long double-source trolleybuses, which draw power from dual overhead wires.
It delivered 760 buses and other commercial vehicles to Kazakhstan last year. The Chinese company also shipped 130 units to Mexico after receiving the world's largest order for dual-powered trolleybuses.
In the meantime, it also shipped 102 units to Norway when it received the largest e-bus order in Europe, and 1,002 units to Qatar, including 741 e-buses, the world's largest order for e-buses.
As the markets for autonomous vehicles and new energy vehicles expand rapidly in China and the rest of the world, online behemoths such as Baidu Inc and Alibaba Group have forged partnerships with domestic automakers such as Zhejiang Geely Holding Group and SAIC Motor Corp.
The joint ventures will produce smart e-vehicles. Vehicle sales as well as share prices of such listed companies have been rising in recent years.
According to the 2021-35 growth plan for the new energy vehicle or NEV industry approved by the State Council, China's Cabinet, in November, NEV sales are expected to account for 20 percent of all new vehicle sales by 2025. And vehicles used in public transportation will be completely electric by 2035.