Vehicle sales to rise by 4% this year
Share - WeChat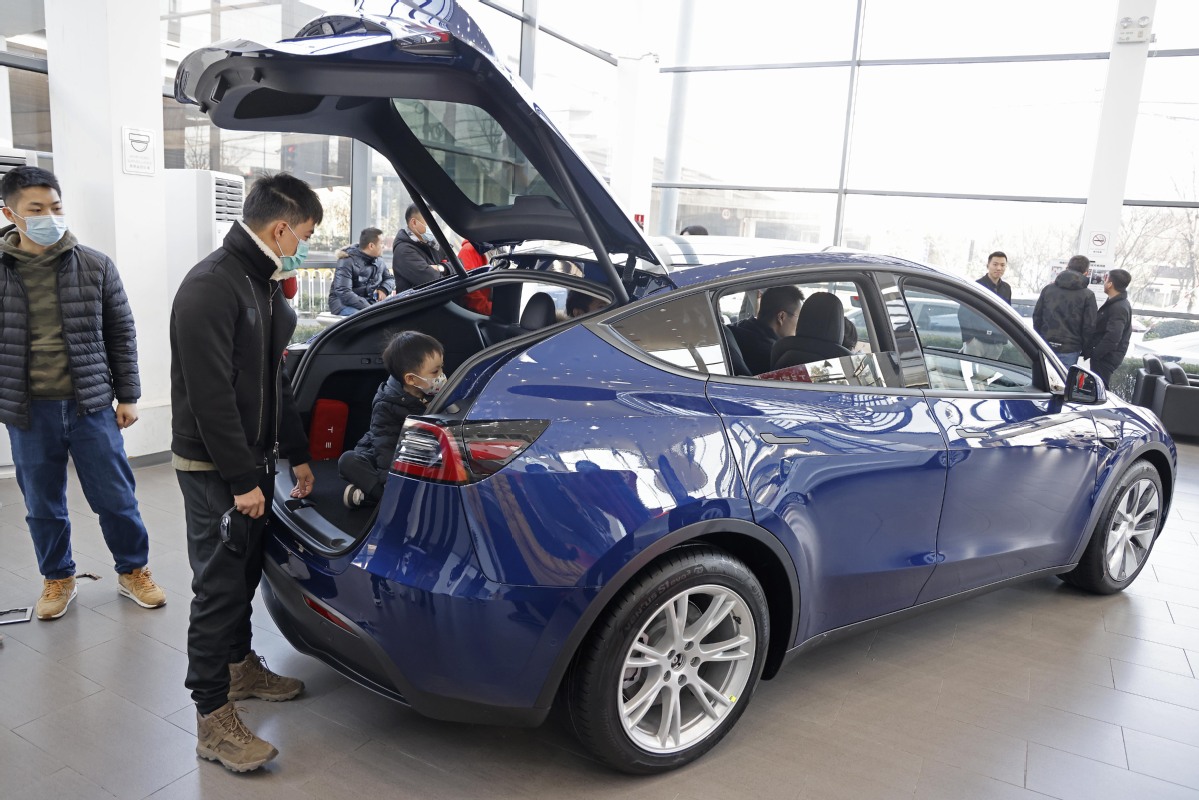 Vehicle sales in China are expected to grow by 4 percent on a yearly basis to 26 million units in 2021, after falling for three years in a row, according to a leading automobile industry association.
Some 25.31 million vehicles were sold last year in China, the world's largest automobile market, down by 1.9 percent from 2019, primarily due to the COVID-19 pandemic, according to the China Association of Automobile Manufacturers.
The Chinese car market went through a difficult first quarter, when the pandemic forced people to stay away from showrooms across the country. But sales started to recover in April, when the coronavirus came under better control in China.
The rebound continued well through the rest of the year, with double-digit growth seen in most months of the second half, but the whole year tally failed to reach the 2019 level.
Despite the downward spiral, new energy vehicle sales set a record. Nearly 1.37 million electric cars and plug-in hybrids were sold during the year, up 10.9 percent from 2019, thanks to the popularity of such vehicles as Tesla's Model 3 and Chinese carmaker Wuling's small Hongguang electric vehicle.
The association estimated that new energy vehicle sales will grow to 1.8 million units in 2021.
"The continuous recovery shows the resilience of the Chinese economy and people's growing demand for the vehicles," said Chen Shihua, deputy secretary-general of the association.
He said the rising trend indicates that the Chinese auto market is witnessing renewed growth, with total sales in 2021 expected to reach 26 million units.
Due to the pandemic, carmakers saw mixed results in 2020. China's largest private carmaker Geely delivered 1.32 million vehicles last year, a 3 percent drop from 2019.
General Motors' sales in China fell by 6.2 percent last year to 2.9 million vehicles. It was the US automaker's third straight decline in annual sales in the country.
Ford, the second-largest US carmaker after GM, sold 602,627 vehicles in China last year, up 6.1 percent from 2019. This marked the carmaker's first growth in annual sales in the world's largest car market since 2017.
Ford said the positive results reflect the company's favorable product mix that more strongly aligns with Chinese consumers' preferences for sport utility vehicles and premium vehicles.
Thanks to its localization efforts, Ford's premium arm Lincoln saw sales rise by 32.5 percent on a yearly basis in 2020 to a record 61,700 vehicles.
Like Lincoln, most premium carmakers also saw robust demand in the country.
German carmaker BMW Group sold 777,379 vehicles last year, up 7.4 percent from 2019, marking its best annual sales in the country since its arrival in 1994.
Jochen Goller, president and CEO of BMW Group Region China, said the carmaker is confident in the medium and long-term development of the Chinese market and the country's economy has shown great resilience.
Mercedes-Benz, another German carmaker, delivered 774,382 vehicles in the country, up 11.7 percent year-on-year.
British luxury carmaker Bentley sold 2,880 vehicles in China last year, up 48 percent from 2019, thanks to new models including the Flying Spur sedan and the Bentayga SUV.
The company said demand in China helped it to offset a sales slump in Europe and the Middle East and brought global total to 11,206 units, a record in the company's 101-year history.