Expats remain to help nation combat virus
By LIU KUN in Wuhan, TAN YINGZI in Chongqing, PEI PEI in Shenzhen, Guangdong,TAN YINGZI,PEI PEI and CHEN MEILING | CHINA DAILY | Updated: 2020-12-31 07:21




Share - WeChat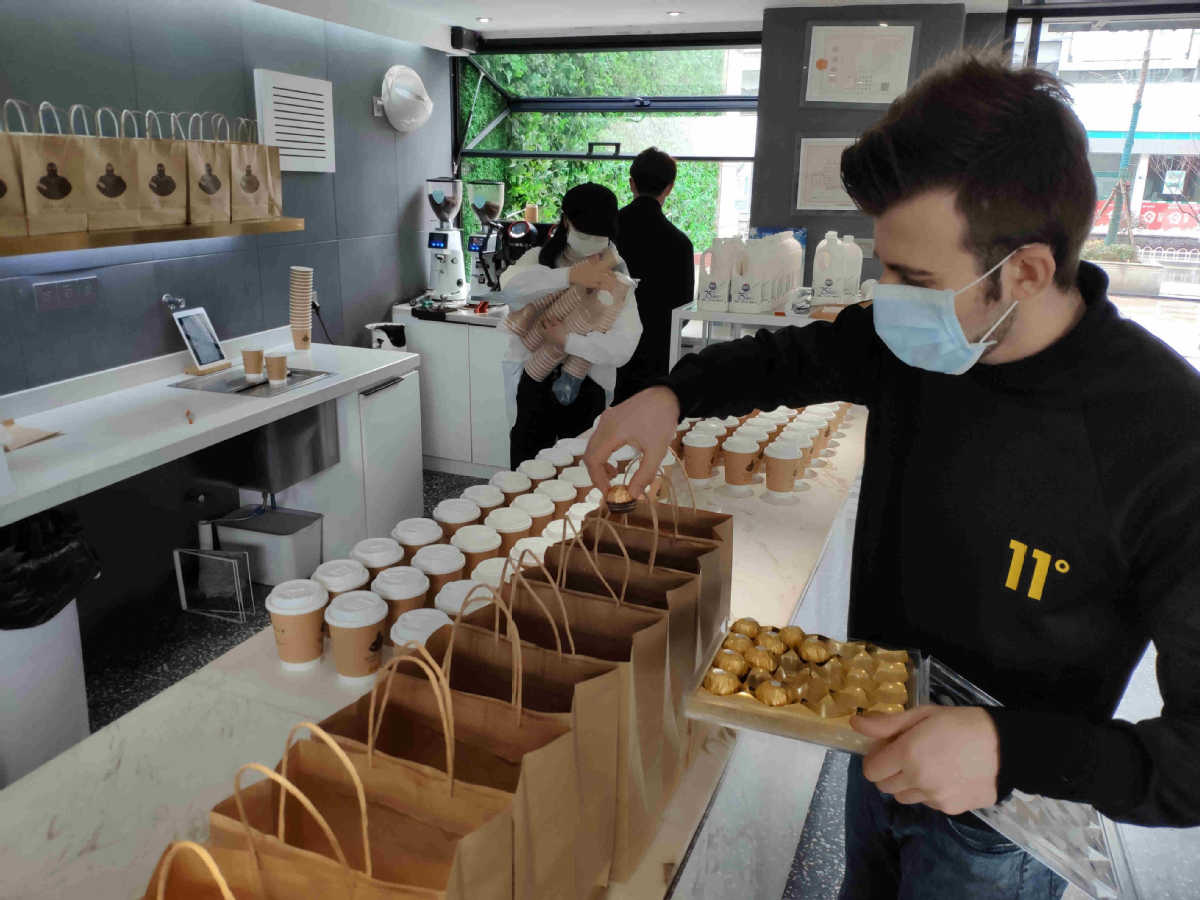 Foreign volunteers show their fighting spirit
Editor's note: Since the start of the year, China Daily has published more than 40 reports in a series titled Novel Experience, telling the stories of foreigners living in China during the COVID-19 outbreak. We catch up with some of them to hear about their latest experiences.
Two years ago, Sina Karami, 29, became a barista in Wuhan, capital of Hubei province, by sheer chance.
In 2018, Karami, who is from Iran, and at the time an overseas student in Wuhan, was strolling along a street with friends in the city's Optics Valley area. A new cafe named Wakanda was being built there.
The cafe's boss was impressed by Karami's appearance and asked whether he had an interest in coffee and wanted to work for the business. The student, who had experience selling coffee in Iran, readily agreed.
"I knew nothing about China and the Chinese language before I came here. I was wondering how the country had developed so fast in recent years, so I came to see for myself," he said.
"After one semester of learning Chinese, I thought that if I really wanted to experience the country's culture, it would be better to learn from real life, rather than on campus."
After being invited to work for the cafe, Karami quit college, obtained a work visa and became a full-time barista at Wakanda.
The cafe, a 2-year-old startup, delivered some 500 cups of coffee a day free of charge to medical workers when the city was hit hard by COVID-19.
On Jan 23, a lockdown was enforced in Wuhan to curb the spread of the disease, and Wakanda outlets were closed.
The Optics Valley cafe reopened three days after the lockdown was imposed.
The company's boss, Tian Yazhen, who is in her 20s, decided to open this outlet near Hubei Provincial Hospital of Traditional Chinese Medicine. She said many medics come to the store during the day or after work to buy coffee.
"Like many companies, we faced cash flow challenges and even bankruptcy due to the pandemic. I thought of sending the last cups of coffee to our long-time customers," she said.
Karami was among seven workers who volunteered to help. His mother called him every day, asking him to return to Iran, but he chose to remain in China.
"After all, many of my friends were here. I was also worried that it would take a long time before I could travel to China again," he said.
The cafe donated about 40,000 cups of coffee and other beverages to medical workers in the two months to April, with encouraging words written on the cups. "We wanted to cheer them up," Karami said.
One doctor commented online that many stores refused to send deliveries to hospitals, fearing infection, but the cafe volunteered to help, which was "very moving".
After media reports appeared on the assistance offered by the cafe, many netizens showed their support for medical workers by ordering its coffee online for them, with total payments reaching about 3 million yuan ($458,964). The cafe named this coffee "Wuhan latte".
Karami said, "I felt the kindness and power of Chinese people who were willing to help each other," adding that he shared his experience and the action taken by China to fight the pandemic with people in Iran.
He is now in charge of another Wakanda store, where he works many hours a day. Customers also visit this outlet to buy "Wuhan latte".
Karami said he wants to stay in China for the next few years and visit Xiamen, Fujian province-perhaps with his boss-to expand the business. He added that he wants to improve himself in order to help more people.