Chang'e 5 returns home with lunar samples
Share - WeChat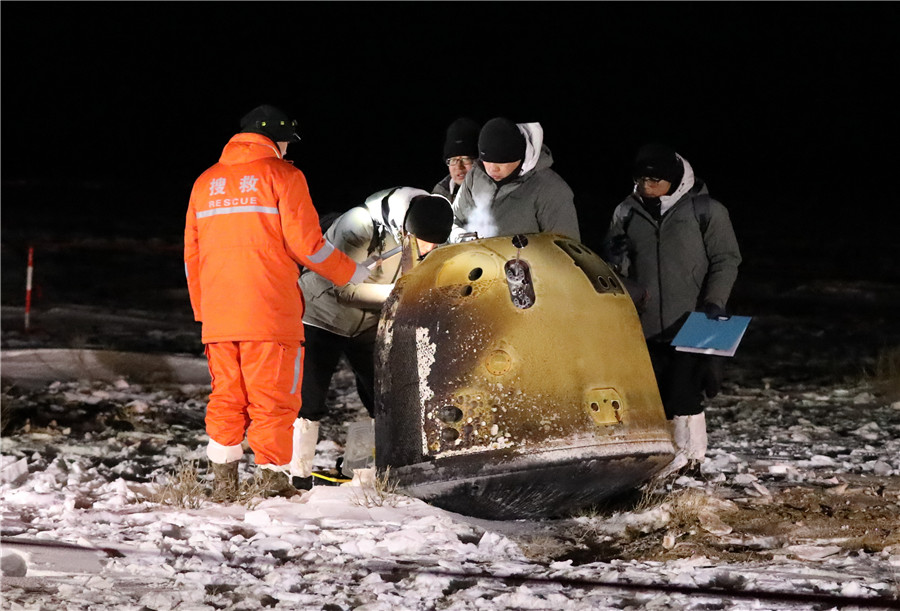 The capsule then separated from the orbiter about 5,000 kilometers above the southern Atlantic Ocean and began to descend toward Earth. It entered the atmosphere at the second cosmic velocity, or 11.2 kilometers per second at 1:33 am, and soon bounced off the atmosphere to further slow down its ultrafast speed that could cause damage to the vehicle. Later, the craft reentered the atmosphere at a much slower speed of about 7.9 km per second, also known as the first cosmic velocity.
When the module was about 10 km above the ground, it released its parachutes and smoothly landed on the snow-covered grasslands. Recovery personnel sent from the Jiuquan Satellite Launch Center soon came to the landing site in helicopters and off-road vehicles.
The successful landing marked the completion of the historic 23-day Chang'e 5 expedition, the first in more than 40 years, to bring lunar samples back to Earth, also making China the third country to achieve this feat after the United States and the former Soviet Union.