Military urged to sharpen its combat ability
Share - WeChat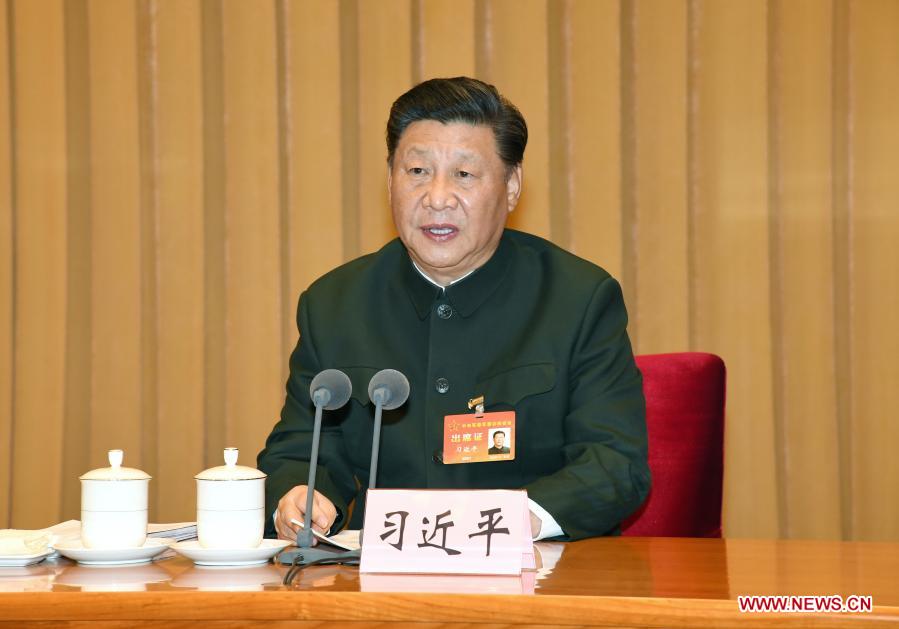 President stresses importance of strategic planning, top-level design at meeting
President Xi Jinping urged the Chinese military to comprehensively strengthen training under real combat conditions and raise its capability of winning wars.
Xi, who is also general secretary of the Communist Party of China Central Committee and chairman of the Central Military Commission, made the remark at a military training meeting of the Central Military Commission in Beijing on Wednesday.
Xi also presented awards to model soldiers and training units at the meeting.
He emphasized that the military must focus on preparing for wars, enhance overall training capacity under real and joint combat conditions by applying more science and technology, and by adhering to law.
The military should keep advancing reform and innovation, accelerate the construction of a new military training system and comprehensively improve its capacity to win in order to provide strong support for achieving the goal of making the Chinese military a world-class one, he said.
Xi said training is vital for military missions and serves as the fundamental way to generate and improve combat effectiveness. It directly prepares for military combat and is of great significance for ensuring that the army can fight and win battles, as well as for improving the overall construction of the army.
He noted that the CPC Central Committee and the Central Military Commission have unswervingly placed military training in a strategic position and focused on beefing up actual combat and joint combat capabilities, deepening reform, innovation and promoting competitions.
China's military has been able to make big advances in serving in actual combat, resolving some longstanding, prominent problems. It now faces new challenges in terms of the security environment, military struggles, missions, modern warfare, organizational structure and modernization, Xi said.
The military should push training to a new stage of transformation and integration, increasing its awareness of danger, strengthening its sense of responsibility and accelerating the upgrading of military training, he added.
Xi also pointed out the importance of strategic planning and top-level design to reinforce not only actual combat and joint combat training, but also training management, the scientific and technological literacy of officers and soldiers and the cultivation of talents. He added that there should be respect for the positions of officers and soldiers, innovation should be encouraged and enthusiasm boosted to foster wisdom.
He said it is necessary to have military exercises in arduous and rigorous environments to guide officers and soldiers, to solidify their convictions, sharpen their fighting will and uphold the tenacious fighting spirit that does not flinch in the face of hardship and death.
Xi also emphasized the need to strengthen the Party's leadership over military training, thoroughly root out formalism and bureaucracy and make commanders at all levels concentrate on studying warfare and honing their commanding skills.
Xi noted that it is the responsibility of the entire military to enhance military training. Party committees and governments at all levels should provide strong support in guaranteeing venues, resources and compensation for the injured and conflict mitigation during exercises.