Exhibit shines spotlight on mosaic art in China
Share - WeChat "Aside from their shimmering effect, the colored mosaic glass tesserae, being constantly modified, hardly discolor, and they are resistant to water, exposure and erosion," Li noted, adding that "Hence they are ideal materials for making murals, especially those displayed outdoors."
As Changde, a city in Central China's Hunan province, is turning its nearly 4-kilometer-long anti-flood dyke along the Ruan River into China's largest mural wall, mosaic is the favorite medium among the 100-odd participating muralists.
Among the total 120 murals, about a third of them are mosaics.
A participant of the Changde Mural Wall, Li created two murals. Both are mosaics. One showcases Changde's local opera and the other, inspired by ancient Chinese Taoist philosopher Zhuangzi's thoughts, promotes virtue and kindness in society.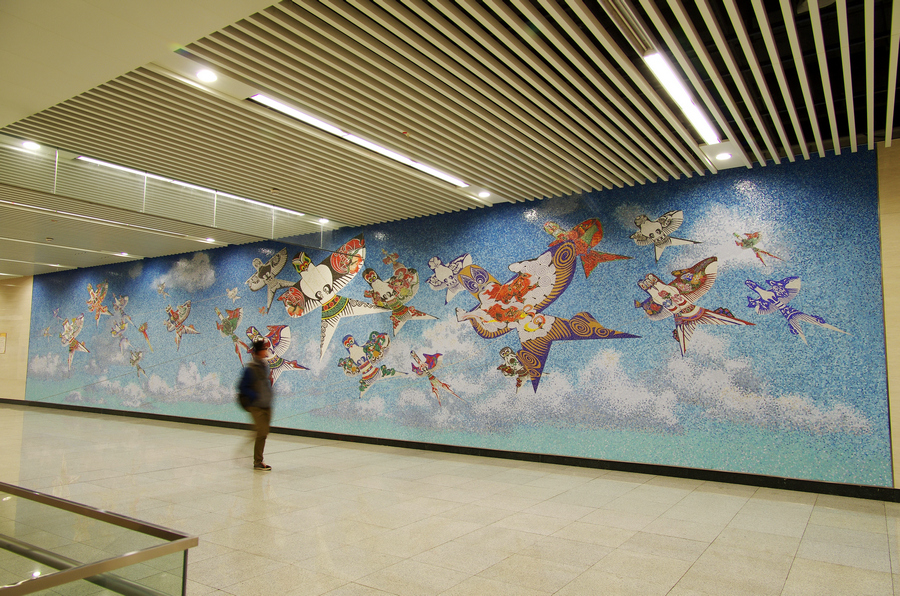 In addition to glittering aboveground, more mosaic murals are shining bright underground in Chinese cities, turning subway stations into welcoming, walkable spaces.
For example, joining Beijing's East and West, subway Line Six is a trove of wall mosaics. At the line's east end, Dongxiayuan station, riders can see a wall turned into an azure sky dotted with the locally famous swallow-shaped kites. Muralists Tang Xiaohe and Wang Changxing said that they hoped their visual artwork could bring commuters a sense of leisure in the fast-paced capital.
Most Popular