Exhibit shines spotlight on mosaic art in China
Share - WeChat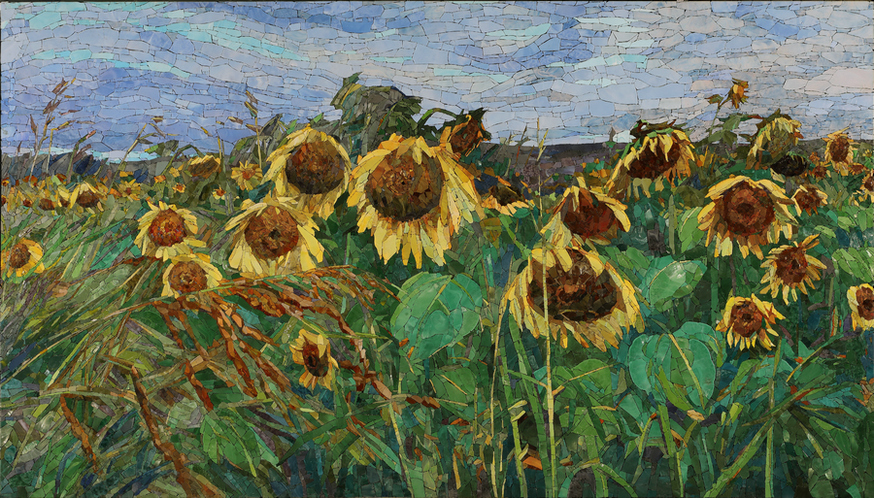 Unlock the glitter of mosaic
Making a mosaic involves placing together small pieces of various materials such as glass, stone, and shells (tesserae) of different colors onto an adhesive surface. When set together, the tesserae create a paint-like effect in which different colors fuse together, creating shadows and a sense of depth.
The beauty of the art form shines through the mosaic showpieces at the CAFA exhibit, which are originally oil paintings and ink paintings in the main. Made of glass tesserae of a bit transparency and color saturation higher than that of paints, the mosaics shimmer and sparkle as light reflects off the surface.
After being transformed into a mosaic, Fan Di'an's oil painting Sunflowers attracted great attention at the show.
"The flowers look so vibrant with the shimmer of those colored glass tesserae," commented oil painter and muralist Liu Bingjiang, who is known for c0-creating Creation, Harvest, Joy with his wife Zhou Ling for the Beijing Hotel between 1980 and 1982.
The artist's two heavy-color oil paintings have also been invited to participate in the show.
"Like many other oil paintings on show, mosaic tesserae and techniques have definitely given shine to my original work," Liu told China Daily website.
However, the veteran artist frowned on the idea that mosaic can add color to any type of painting. He cited ink painting for example.
"As ink spreads on the rice paper, different shades of black form smoothly. This smoothness of ink's motion can be easily lost as an ink painting is made into a mosaic, which consists of hundreds or even thousands of broken pieces," he argued.
Together with Liu, many seminar attendees such as Sun Tao, deputy director of CAFA's mural painting department, agreed on which media of painting can be properly turned into mosaics still remains an issue to be researched by Chinese art circles.
Most Popular