More teachers, factory workers sought
Share - WeChat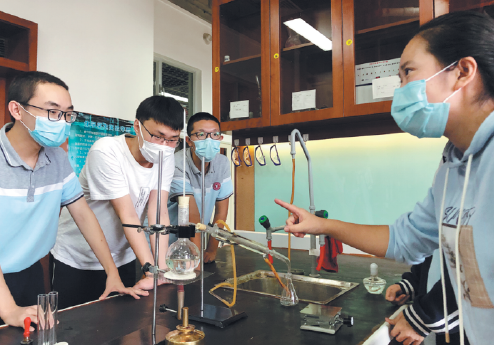 The job market saw an increased demand for factory workers and teachers in the third quarter this year amid the recovery of the manufacturing sector and the reopening of schools, according to the Ministry of Human Resources and Social Security.
A list of 100 professions in high demand-the third issued by the ministry since December-showed that 19 out of the 28 professions that joined the list between July and September are jobs in the manufacturing sector.
Ministry spokesman Lu Aihong said at a news conference on Friday that the manufacturing industry saw strong recovery in the third quarter as the coronavirus pandemic was put under control domestically, resulting in more job openings.
Lu's remark is supported by market data. The latest figures from Zhaopin, a Beijing-based online platform offering recruitment services, show that manufacturing companies' demand for workers rose by 107.6 percent year-on-year in the third quarter.
The education sector also reported a shortage of elementary and middle school teachers after campuses reopened to students, pushing related professions onto the list for the first time, Lu said.
Still, the top 10 professions of the 100 in high demand are from the service sector, and the bulk of those jobs require fewer skills.
According to the list, sales positions saw the biggest labor shortfall in the third quarter, followed by cleaners, restaurant servers and security guards.
Despite the shortfalls, the nation's overall job market is recovering at a stable pace, the ministry said.
A news release by the ministry shows that from January to September, there were 8.98 million new jobs created in urban areas. The surveyed urban unemployment rate was about 5.4 percent in September, down 0.2 percentage points from the previous month.