Short-video apps offer new chances and perspectives for rural residents
Share - WeChat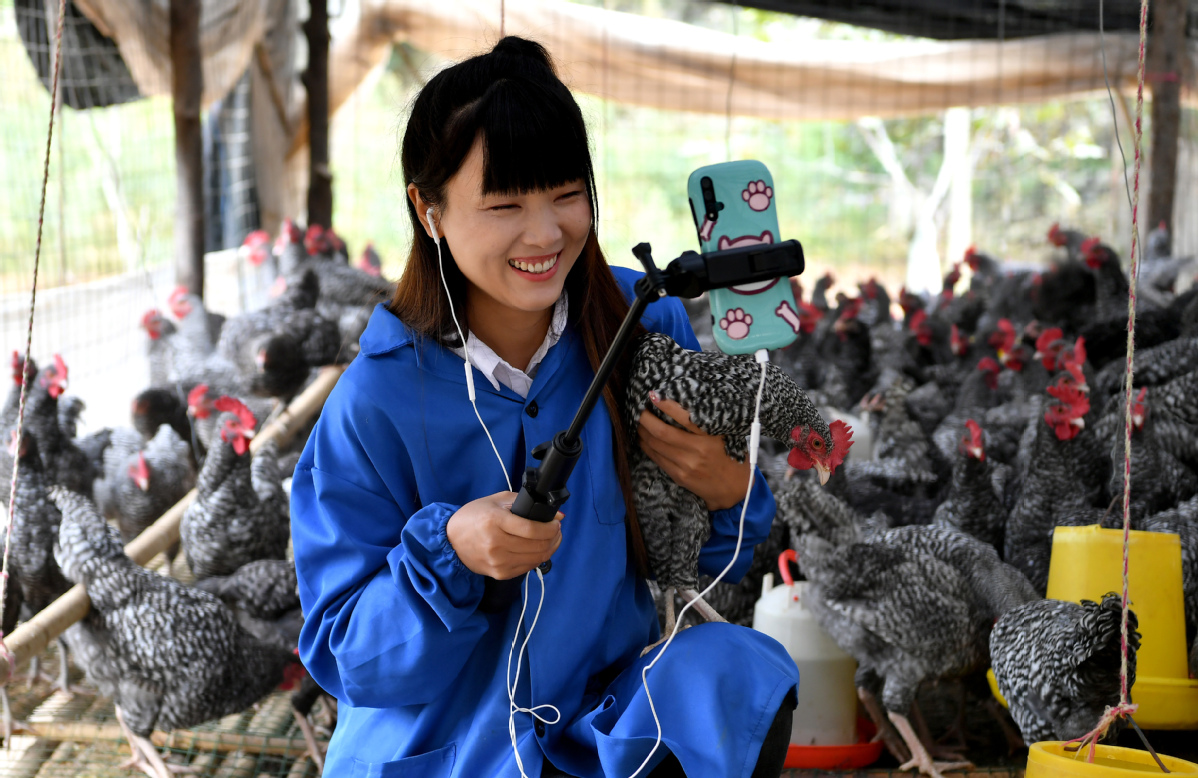 Farmers and scholars say the easy-access platforms offer ways to learn and share. Zhao Xinying reports.
Every morning, Liu Jinyin gets up with plans to record and share his life through short videos and livestreaming.
The 29-year-old farmer from Luzhou, Sichuan province, has almost 1 million followers on several short video platforms-Douyin, Kuaishou and Xigua, to name a few-that host his content.
Apart from some urban residents who are interested in the rural lifestyle depicted in his videos, most of his followers are rural people like him.
"Most people in the countryside know short video apps and spend a lot of time on them," said Liu, whose education ended when he finished primary school.
A report released by the China Internet Network Information Center in late April showed that through March, China had a total of 904 million internet users. Of them, 255 million, or 28 percent, were from rural areas.
As the number of short-video app users reached 773 million in the country as noted in the report, the number of short-video app users in China's rural areas reached an estimated 216 million.
Form of entertainment
Zhu Wei, deputy director of the Communication Law Research Center at China University of Political Science and Law, said short-video apps are well-received in the countryside because they offer content that is closely tied with rural life.
They also have very low thresholds for users, and people don't need much knowledge or educational backgrounds to use them.
Xia Jinxing, director of the School of Vocational Education Teachers at Chongqing Normal University, said China has a large rural population and the agricultural activities they engage in are seasonal.
"It means that people living in the rural areas have great amounts of free time and need a lot of entertainment," said Xia, who served as the deputy director of the School of Education at Hunan Agriculture University for a decade and kept an observation on the rural demographic.
"In recent years, the living standard for people in rural areas has improved greatly," he added. "That's thanks to the government's policy of lifting people out of poverty. More farmers have also had their own mobile phones, which has laid a foundation for the popularity of short video apps in the countryside."
Liu Yuanju, a researcher at the Shanghai Institute of Finance and Law, said while residents in urban areas have a wide range of amusement, including karaoke and movies, people living in rural areas of China have very limited access to entertainment.
"Against such a backdrop, short videos, which only require an inexpensive mobile phone and very simple operation, became a major form of recreation for them," he said.
Even compared to TV series or movies, which can also be watched on mobile phones, short videos have apparent advantages.